The History & Evolution Of Mosaic Tiles
Mosaic Tiles Through The Ages: From Ancient Times To The Modern Day
For more than 3000 years, mosaic tiles have been used to create stunning interiors and beautiful works of art, and with so many vibrant colours and design possibilities available, it is not hard to see why this style of tiling has stood the test of time.
‍
From the earliest mosaics through to the latest tiling trends, learn more about the fascinating history and find some inspiration for your contemporary mosaic tiling projects.

Browse Mosaic Tiles
A History Of Mosaic Tiles
Mosaic tiles can be traced all the way back to Mesopotamia, where the world's first civilization is believed to have begun around 12,000 BC. Here shells, stones and ivory were used to create stunning mosaic art, and the first tiles were developed based on glazed bricks used to protect the exterior of buildings. 

Moving forward to 200 BC, within the Roman Empire mosaic tiles were used to create vast artworks and patterns across sprawling floors, with the small and colourful tiles depicting scenes of gods, everyday life and beautiful patterns.

This decorative finishing was carried from the floors through to walls and ceilings by the Byzantine Empire era, when very small 'smalti' glass mosaic tiles were used to add an opulent theme to cathedrals, palaces and the homes of the very wealthy.

The gold and silver-backed smalti tiles were reserved mainly for religious buildings, and there are still many fine examples surviving today, such as the mosaic masterpieces at the UNESCO World Heritage Site in Ravenna, Italy.

The religious theme continued into the Muslim Empire, which at its peak stretched as far as Spain and North Africa. The style differed from the intricate religious designs of the Roman and Byzantine Empires, with bright geometric patterns and motifs used to decorate many Islamic mosques and palaces.

As with many fine mosaics, the designs are still available to view today with excellent examples of these Islamic tiling masterpieces found at the Jameh Mosque in Iran, the Blue Mosque in Afghanistan and the Alhambra palace in Spain.

In terms of western tiling traditions, it wasn't until the early 20th century that mosaic tiling experienced a surge in popularity, largely fueled by talented artists such as Josep Maria Jujol and Antoni Gaudi. There are many examples of mosaics from the early 1900s still in place, with one of the most famous installations being Guell Park, Barcelona, where beautiful mosaic tiles adorn everything from statues and benches to the sides of buildings.

During the Victorian era, contemporary mosaic tiles were installed throughout entranceways, hallways and kitchens, with the black and white square tiles often highlighted by beautifully coloured mosaic tile accents and designs. The contemporary geometric finish of this popular tiling style has stood the test of time, with many homeowners now restoring these beautiful finishes to their former glory.

The Evolution Of Mosaic Tiles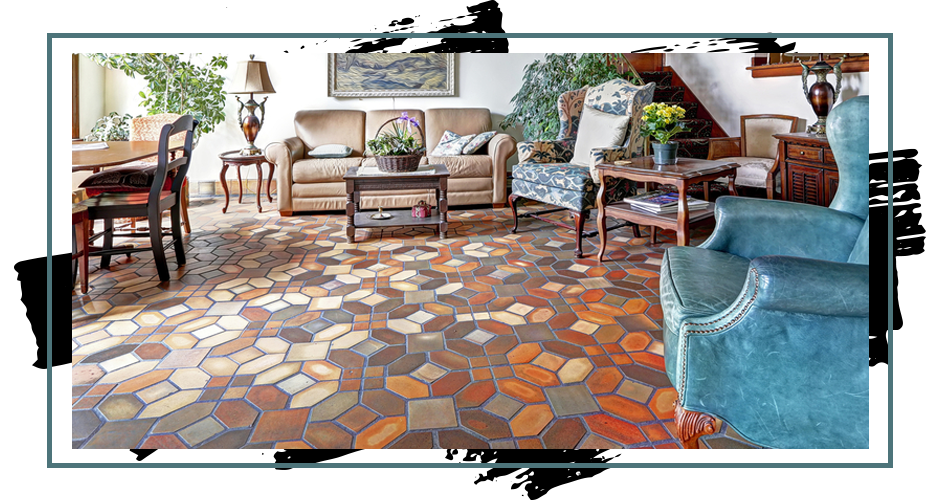 Until quite recently, mosaic tiles were mainly used to create works of art. However, modern mosaic tiles are often much simpler in their style. Despite the shift towards simpler mosaic tiling styles, the evolution of classic mosaic tiles through the ages in terms of styles, colours and the way the tiles were used provides great inspiration for the modern options we often install in our homes today.

There are many great mosaic tile trends found throughout the decades within the 20th Century, however, it was during the 1950s that beautiful coloured modern mosaics really soared in popularity.

Following the post-war era, many homeowners were looking to inject a sense of fun and frivolity into their homes, and so small 1" mosaic tiles in colours such as light blue, mint and pink were used liberally across bathroom and kitchen walls and floors.

The fondness of mosaic tiles has continued for thousands of years, and although luxurious materials such as marble and natural stone are often incorporated into our homes, the unique and artistic finish available with modern mosaic tiles will always stand the test of time.

How Are Modern Mosaic Tiles Used?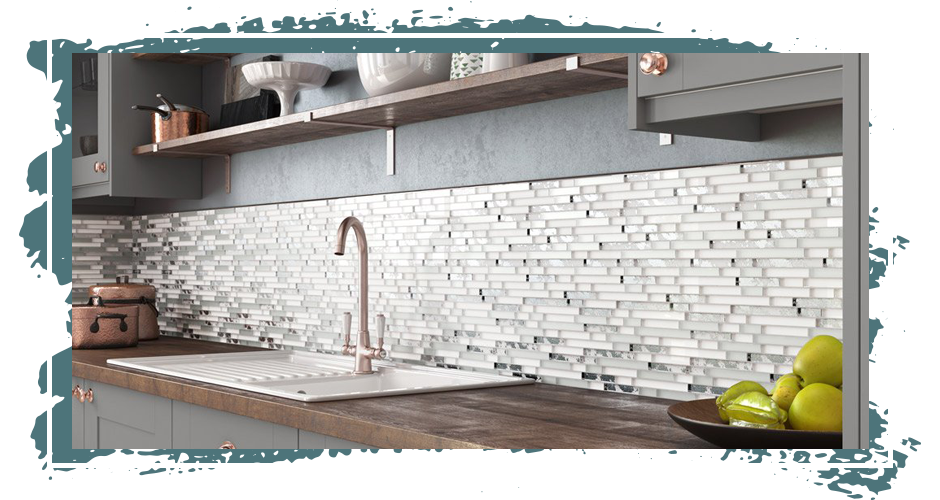 Although there are still small individual mosaic tiles available that can be skillfully laid to create a truly unique work of art, today many tilers, homeowners and interior designers opt for the convenience of mosaic tile sheets. These sheets are available in a vast array of potential designs, which allows the intricacy of mosaic tiles to be combined with modern convenience.

Whether you are a fan of contemporary gloss surfaces, luxurious marble finishes or classic glass mosaic tiles, tile designers have created an array of stunning mosaic tiles which can be incorporated into every home interior with ease.

The following are just some examples of popular styles which lend themselves to modern mosaic tiles.

Nautical Inspired Mosaic Tiled Walls
The colours of the ocean can be a stunning addition to a home, with white mosaic tiles beautifully complemented by blue mosaics, greys and even black perfectly suited to a nautical theme. This is a style that is popular within holiday homes and with those who live by the coast, and there are always beautiful nautical-inspired accessories available which can be paired with your tiles to bring the overall theme together.

We recommend pairing darker blues with muted tones to create a modern feel, with glass and natural stone mosaic tiles providing the ideal finish for this versatile theme.

Moroccan Influenced Geometric Mosaics
If you are fan of the traditional geometric style mosaic tiles, there are many examples which lend themselves to a Moroccan inspired theme. The deep reds, terracotta and cream colours will instantly add warmth to your home, and when paired with soft furnishings with contrasting patterns and colours, you will instantly create a stunning interior.

It is these layers of contrasting colours and finishes which will help to create a truly authentic feel, with a great tip being to pair gloss mosaic tiles with matt finishes, to add an interesting finish throughout the area.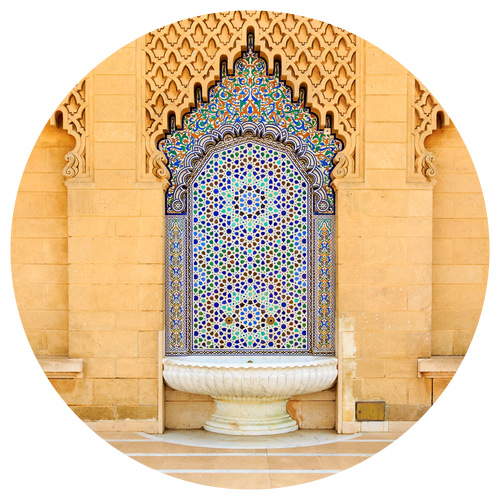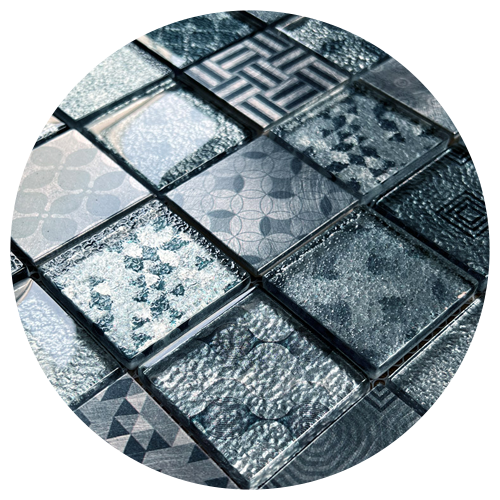 Metallic, Jewelled And Mirrored Mosaics
One of the most contemporary design trends within mosaics is the use of metallic, mirrored and jewelled tiles, which will add a luxurious finish. Mixed mosaics offer a range of options, including combinations of colours, as well as a beautiful mixture of materials including glass, metallics and stone for a truly luxurious touch.

These can be used in almost any area, from a small kitchen backsplash to a shower enclosure when using bathroom mosaic tiles, and thanks to the array of colours and finishes available, these tiles will instantly update your overall design.

We recommend pairing the gold and silver tones with matching tiles in deep jewelled tones, such as navy blue and forest green to create a truly luxurious and on-trend feel. Although these are a highly decorative style of mosaic tiles, they are also very durable and they will stand the test of time. If this is a style that you would love to add to your home, we recommend choosing the luxurious lines which will provide the glamourous yet resilient finish you deserve.

Natural Stone & Marble Mosaic Tiles
In contrast to the bold metallic finishes described above, natural stone and marble mosaic tiles can be a beautiful way to enhance a neutral interior. The versatility of natural colours is what makes these tiles so popular, and whether they are used throughout a kitchen and bathroom, or simply used to create a feature; the simple, natural finish will add an understated artistic touch.

The resilient finish combined with the natural patterning and texture also ensures these mosaic tiles are a great complement to wood, marble and natural stone slabs, which are often used as worktops, splashbacks, for flooring and stair risers.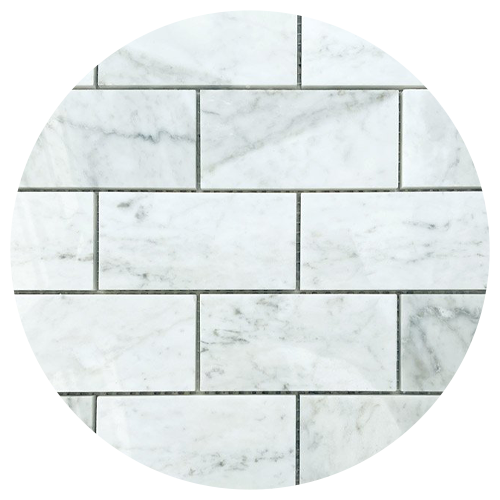 Contemporary Mosaic Tiles – A Popular Design Choice
Our extensive range of mosaic tiles includes everything from classic styles through to the more contemporary mosaic tiles, so we really do have an array of choices for every interior. Whether you are looking to brighten your kitchen and bathroom walls with a bright and colourful glass mosaic finish, or add a luxurious modern twist with marble-effect mosaic tiling, our collection is designed to inspire every design enthusiast.

The versatility of mosaic tiles goes beyond the simple squares often associated with classic mosaic tiles, and today there are an array of shapes and sizes available which will instantly add depth and character.

A great example are brick pattern bathroom mosaic tiles, which will help to create a more spacious feel in small bathrooms, and are also suitable for kitchens. Alternatively, jewelled finish mosaic tiles will help to bounce light around the room and add to the sense of space.

Modern mosaic tiles are the perfect way to add flair and character to your interior, and whether you are planning a complete renovation or a simple update to your home, our range will quickly inject the colour, style and beautiful finish you are looking for.

Find Your Perfect Tiles At Mosaic Village
At Mosaic Village we're experts in everything mosaic tiles. Our experienced team is always on hand to help you compare colours, finishes and textures, and we are more than happy to offer our creative design advice.

We stock beautiful tiles for all areas of the home, as well as a stunning range of swimming pool mosaic tiles that are perfect for commercial and residential use, as well as spas, jacuzzis, wetrooms and more.

When you use mosaic tiling in your home, you aren't just achieving a beautiful and contemporary style of decor. Mosaic tiling means introducing a style that people have loved for over two thousand years, and it doesn't really get much more timeless than that.