Yellow Kitchen & Bathroom Tile Trends
Yellow is a vibrant and popular choice for any home and can add a little bit of sunshine to whichever room you use it in. If you love the colour yellow, it might just be the best choice for your kitchen or bathroom. With its variety of shades – from mustard to egg yolk – yellow makes for a brightening and warming colour, adding a sense of relaxation and soothing heat to your bathroom or a little spice and summery glow to your kitchen. The choice is yours – and yellow is the way to go.
‍
One of the best ways to transform your kitchen or bathroom with the colour yellow is by using tiles in your favourite shades. Read on to find out more on how to incorporate our wide variety of yellow tiles into your kitchen and bathroom.
The yellow kitchen
When you think of yellow, what do you picture? The Mediterranean sunshine? Sunbathing by the ocean on a warm summer's day? Or perhaps you think of your own back garden. Whatever the colour yellow conjures up for your kitchen, tiles can add a pop of colour – no matter what colour your appliances are – and radiate warmth, sunshine and good energy.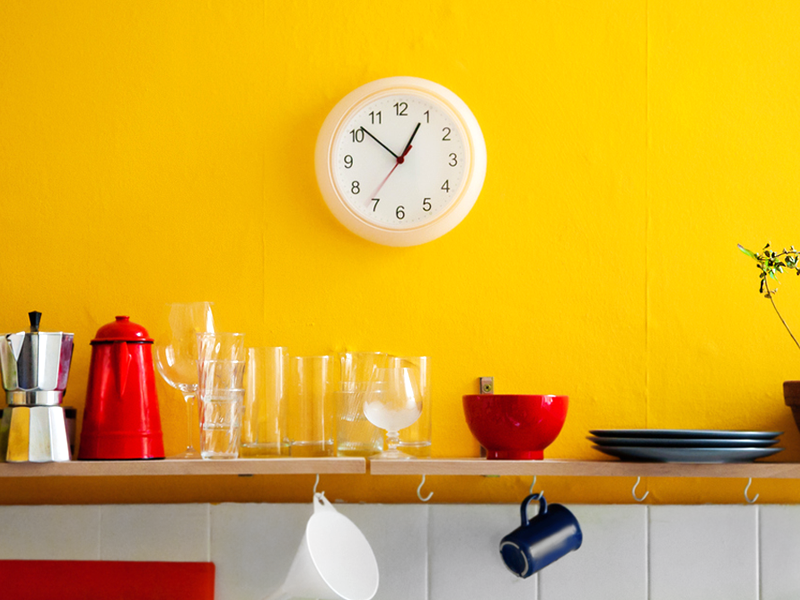 Mosaic features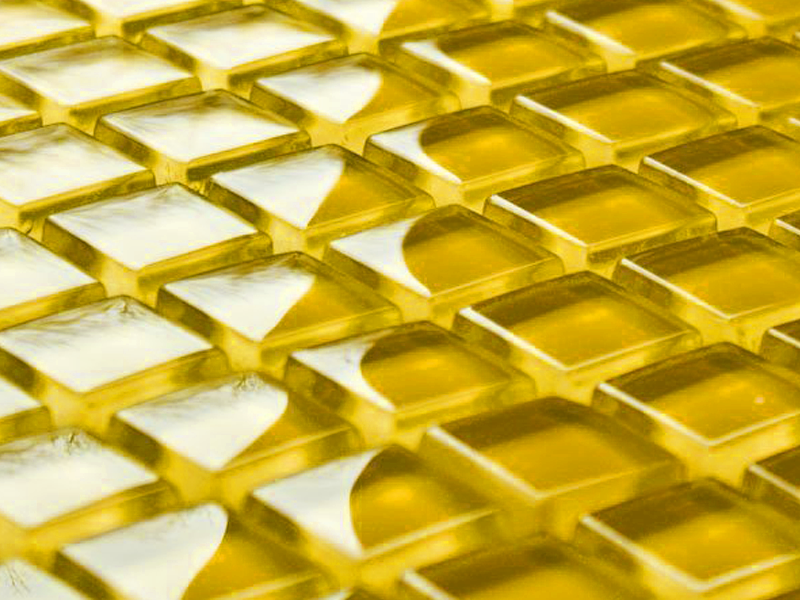 If you don't want to completely re-tile your entire kitchen, using yellow mosaic tiles on the walls can give your kitchen a unique look with just a few simple changes. You can pair different shades of yellow to create a distinctive pattern, or complement the yellow with similar colours like orange and brown to make it really stand out on the walls. This is a great design choice if you want to keep a modern aesthetic but wish to give it a little personalised touch.
Big and bold
If you're going for a slightly more rustic approach with your kitchen, completely covering it in yellow brick tiles can make you feel like you've stepped into a whole new house. Pick a slightly darker, more subdued shade for this one, or use complementary colours against each other to create a more complex and interesting design.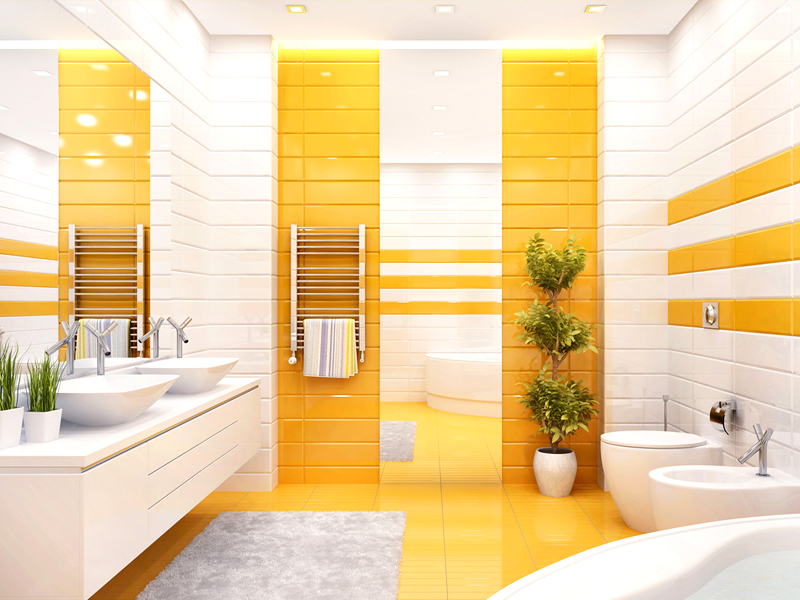 The yellow bathroom
The bathroom should be all about relaxation and pampering, and yellow is the perfect colour to get you in a positive frame of mind.
Pair it with another colour
Yellow can be quite a bold colour choice, especially if your preference is closer to brighter shades, like lemon. In this instance, consider pairing your tiles with another softer colour – like shades of green or blue – and use the tiles to create a pattern around the wall that doesn't overwhelm the entire room. Alternatively, you could use yellow tiles on their own and paint around them to make the tiles even more distinctive.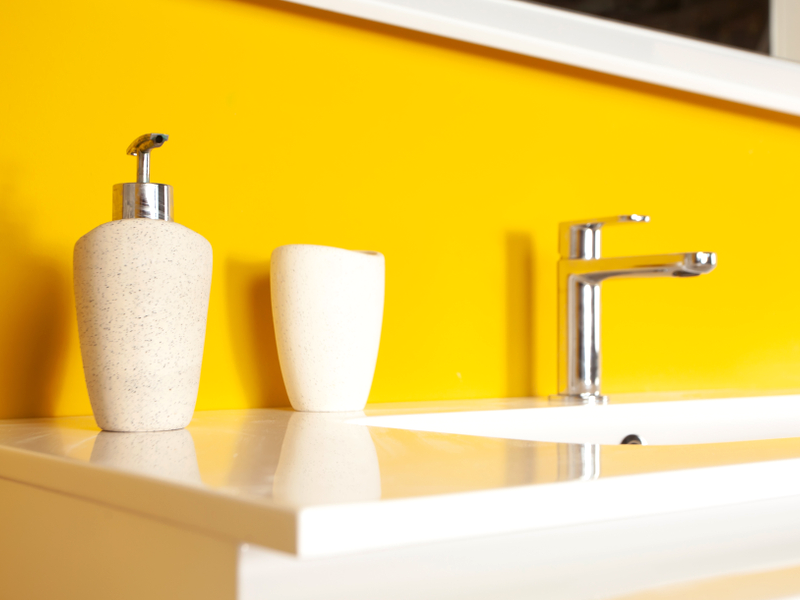 Statement walls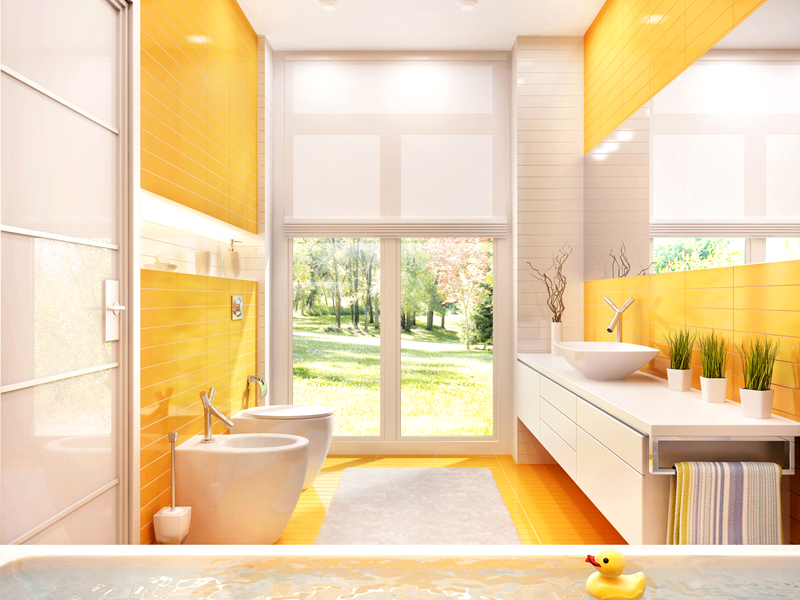 If your bathroom is a little clinical and boring, why not create a feature wall beside the bath or around the shower in bright, vibrant yellow tiles? The colour doesn't overpower the rest of the room and the pop of colour can create a transforming, even dramatic effect. Brick and glass tiles are best for statement walls, and they cope well with steam and water, making them easy to clean and maintain.
Feeling inspired?
For more inspiration on using yellow tiles in your kitchen and bathroom, browse our website today for a wide variety of brick, glass and mosaic tiles, right at your fingertips.