Wet Room Tiling & Design Ideas
Over recent years, wet rooms have begun to make their way into more and more homes across the UK. If you're looking for the perfect way to spruce up the primary bathroom in your home, or make a small en-suite or second bathroom as practical as possible, installing a wet room can be a great option.
‍
In this guide, we discuss the many benefits of installing a wet room and share five of our favourite wet room tile ideas.

Browse Wet Room Tiles
What Is A Wet Room?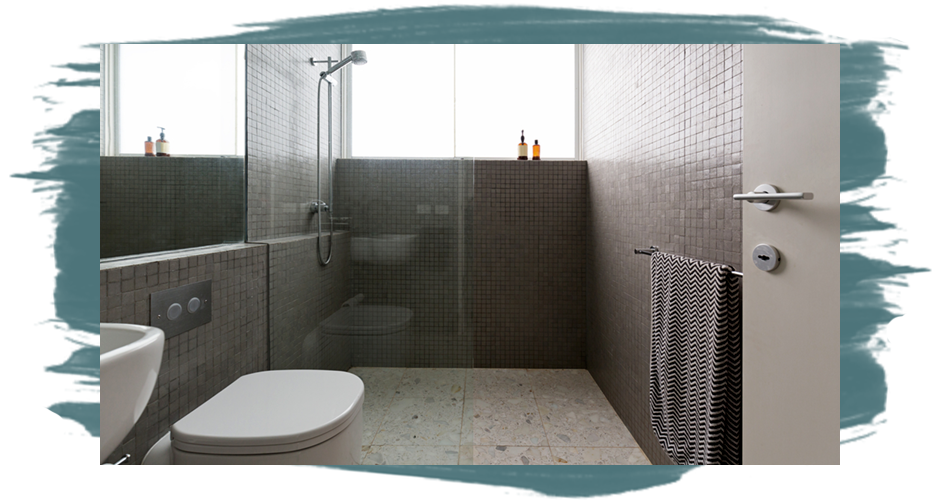 A wet room is similar to a regular bathroom, however instead of having a self-contained bath or shower, the showerhead is mounted to the wall and the floor of the entire room acts as the tray. With a wet room, everything in the room is designed to get wet, and so these rooms usually feature fully tiled walls and floors, along with fixtures that are waterproof and easy to clean. 
‍
With so many unique and contemporary wet room mosaic tiling options available, it's perhaps no wonder that wet rooms are becoming increasingly popular.

What Are The Benefits Of A Wet Room Over A Traditional Bathroom
Wet rooms add a touch of luxury to the home, offering a space that is both highly practical and looks great. Compared to a traditional bathroom which may include a bath and individual shower cubicle, there are a number of advantages to opting for a wet room.

Wet Room Take Up Less Space
There are a great number of advantages to incorporating a wet room into your home rather than a traditional bathroom. For example, if your bathroom is on the small side, you may struggle to find a bath or shower cubicle that will fit comfortably alongside other fixtures such as your toilet and sink. 
‍
Opting for a wet room eliminates this problem as you only need to find enough wall space to mount a showerhead. While the average British bathroom measures 2.5 x 2m, a fully-functioning wet room can be created in a space as small as just 1.5 x 1m, which makes them ideal for adding extra bathrooms or ensuites to existing areas of the home.

Wet Rooms Are Easier To Clean
With a wet room, you'll no longer find yourself nervously mopping up spills around a wooden bath panel and hoping it won't warp. The toilets and sinks used in wet rooms are also commonly wall-mounted, cutting down on the number of nooks and crannies in which mould and mildew might form, and reducing the amount of time you'll spend cleaning them. 
‍
As all areas of the room are designed to be fully waterproof, it's easy to clean surfaces, walls and floors. Good ventilation is important to help the room dry between use, and of course flooring should be installed with a slight incline that enables water to find its way to suitable drainage.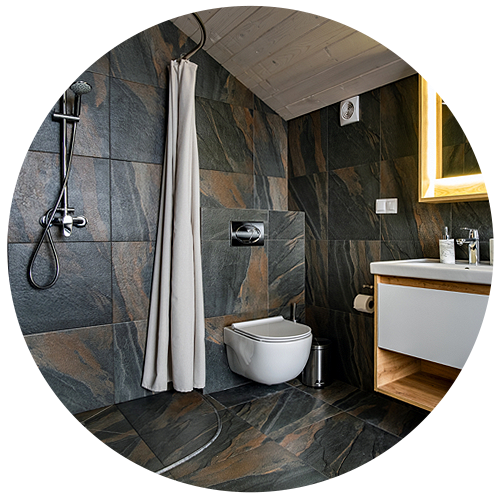 Wet Rooms Can Be More Accessible
As there are no steps or barriers, other than the threshold across which the room is entered, wet rooms can be easily used by those who have mobility issues or require a mobility aid. Depending on the layout of your wet room, you may even be able to use the toilet as a seat to rest on while showering. 

If you struggle to get into a bath or raised shower cubicle, or can envisage a time when this might be the case, a wet room may be the perfect option for you.

What To Consider When Planning A Wet Room
As the name suggests, wet rooms are designed to get wet. It is therefore essential to ensure that every part of your wet room is fully waterproof and able to withstand a regular soaking. The walls should be protected by tiling all the way from the floor to the ceiling and a waterproof membrane should be used between the tiles and the wall to prevent dampness. 
‍
The floor should slope towards a drain and will also need to be waterproofed in the same way as the walls; you can ensure this by having your wet room installed by a professional. It is also important to choose a flooring option that is non-slip, such as textured tiles or non-slip mixed mosaic tiles, in order to avoid any accidents once the floor gets wet.

Tiling Options For Your Wet Room Design
When it comes to selecting tiles for your wet room, you can benefit from choosing a non-porous option, such as tiles made from ceramic, glass bathroom tiles or porcelain tiles. Tiles made from porous stone such as slate or marble might look trendy but are high-maintenance and will need to be re-sealed periodically. Here are our five top tile choices for use in your wet room that create the perfect aesthetic.

Browse Wet Room Tiles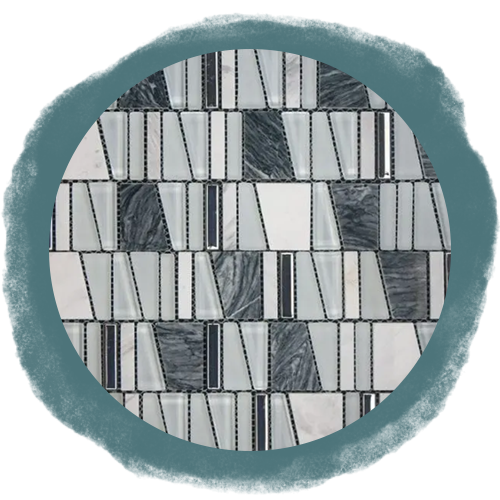 Wet Rooms Can Be More Accessible
If you're looking for a modern, uniform look in your wet room, then rectangular brick or metro tiles are a perfect and popular choice. Perhaps you like the size and shape of metro tiles, but prefer a slightly more rustic finish, then an alternative option is to go for marble or glass brick bond bathroom tiles instead, which still achieve a great, timeless look.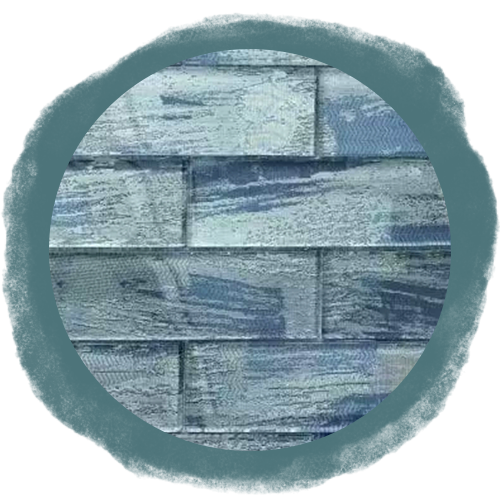 Getting Creative With Your Grout Colour
When tiling your new wet room, the final look will vary hugely depending on the colour of grout that you use. Once only available in muted whites, browns or greys, tiling grout can now be purchased in a huge range of colours. Try white tiles with black grout, or the reverse, for a striking contemporary look, or get really creative and pair pastel tiles with grout in a colour that 'pops' for a modern yet fun style – the combinations really are endless.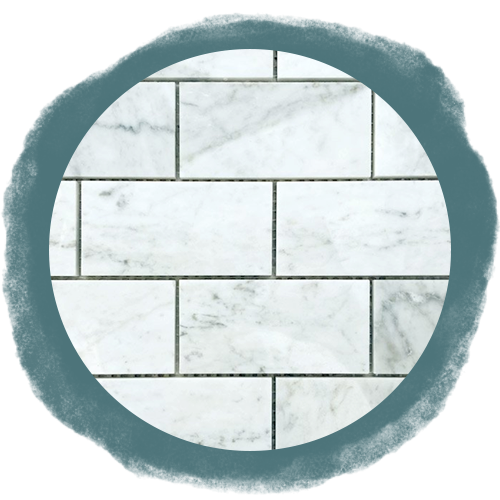 Introducing Contrast With White Walls & Patterned Floors
If you like the idea of playing with pattern and colour but don't want to go overboard, you could play it safe and opt for a plain white tile to use on all of the walls in your wet room, and then pick out your favourite coloured mosaic tiles or patterned tiles just for the floor. The resulting look is clean, bold and timelessly stylish – a great example of this style can be found in the attic of Gaudi's famed Casa Batllo in Barcelona.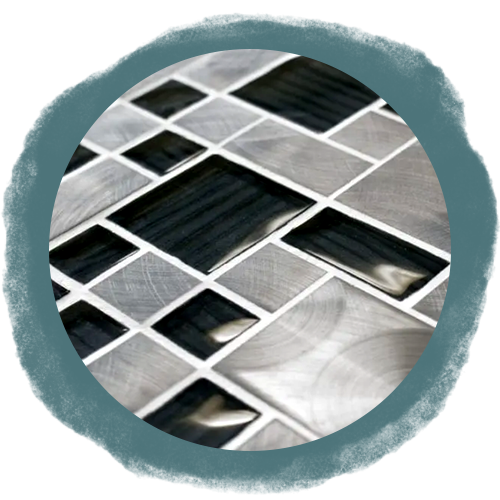 Create A Fresh & Playful Look With Two-Tone Squares
For a while, they were mostly found in schools and church halls, but two-tone walls have now become a popular and stylish choice in contemporary homes. Why not transfer this popular look to your wet room? By simply choosing two colours of the same square tile (this usually looks best with white and a bright colour, or two shades of the same colour) you can easily achieve this fresh and inviting look for your new wetroom. Tile from the floor to midway up the walls in the first colour then continue upwards to the ceiling with the other. The resulting look is cool and playful.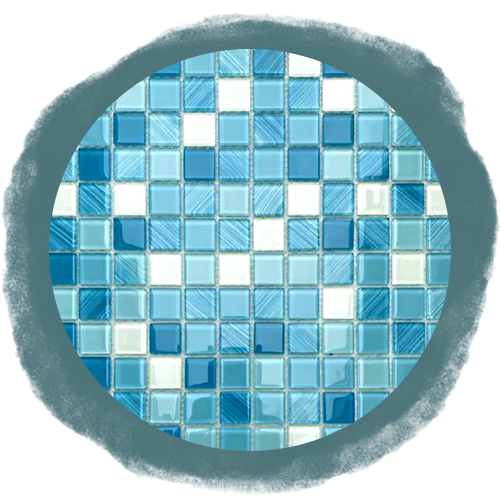 Achieve A Spa-Like Mosaic Effect For Your Wet Room
Mosaic tiles can look stunning when used on a large scale and a wet room provides a great opportunity to do this. Perfect for creating a space that feels serene yet luxurious, you can imagine you're relaxing in a Moroccan riad when you tile with wet room mosaic tiles in beautiful jewelled tones. A popular option is to use swimming pool mosaic tiles within a wet room. High quality, non-slip and designed for both commercial and residential use, these tiles will certainly withstand everything that can be thrown at them, and help to add a luxurious spa-like feeling to the space.