Top Six Kitchen Tile & Grout Trends For 2021
Sprucing up our living space has never been more in vogue, and harnessing the magic of our stunning new tile and grout ranges is a great way to create a stunning look with practical value. Here are six of our top tile and grout trends for 2021.‍

Terrific Texture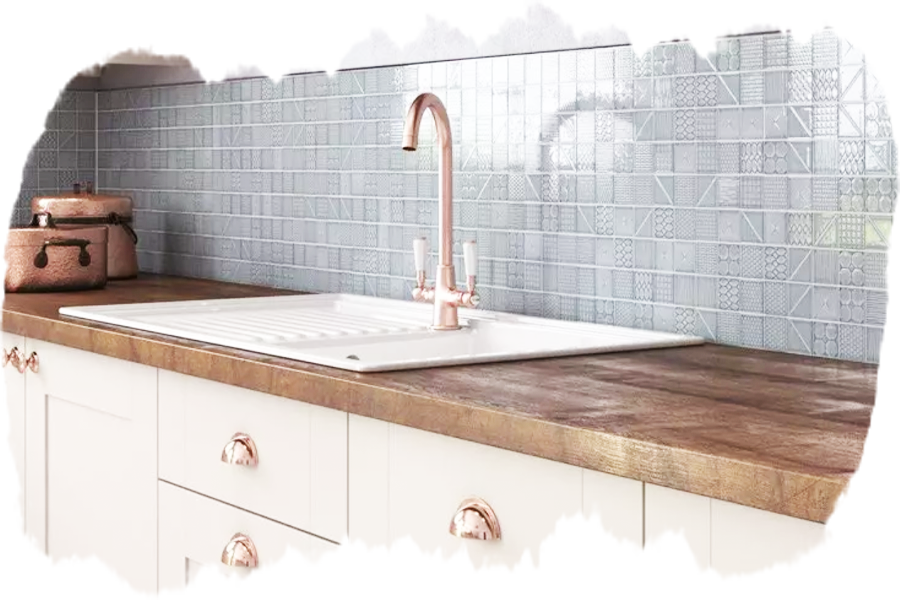 Texture is part of any living space, whether it's a lick of velvet in the living room or a dash of glittered wallpaper in a dull hallway. This trend for texture is making its way to tiles too and choosing something like our Geo Blue tile will bring subtle texture in a soft colour, adding depth and style to kitchens where neutral is king or a subtle character to a retro room.

Mediterranean Inspiration
Mediterranean inspired designs have been big news in the tile scene for a few years and it's a trend that shows no sign of stopping. Borrowing from classic designs and mixing them up for a modern take means a tile style that brings a sense of history to an ultra-modern kitchen, or a hint of quirkiness to a pared-down design. If you're following the maximalist trend, then something like our decorum range, available in glass or stone, is ideal.

Innovative Kitchen Glass Tiles

Choosing environmentally responsible recycled glass is a new tile trend for 2021. We have a fantastic range including our luscious Lux grey square tile that really does add a sense of luxury to any environment, or our sophisticated Paris Brown, a clever mix of glass and metal that brings an array of light and texture to your space.

Mosaic Tiles
Choosing mosaic tiles is a terrific way to break up a large area and create a more intimate feel in an open-plan space. You can buy a terrific array of colours and patterns, from classic square mosaic-styles like Studio which brings a blend of glass and sparkle, to bold and beautiful patterns such as Futuro Bronze, a stunning collection of modular mosaic tiles.

Dark & Dramatic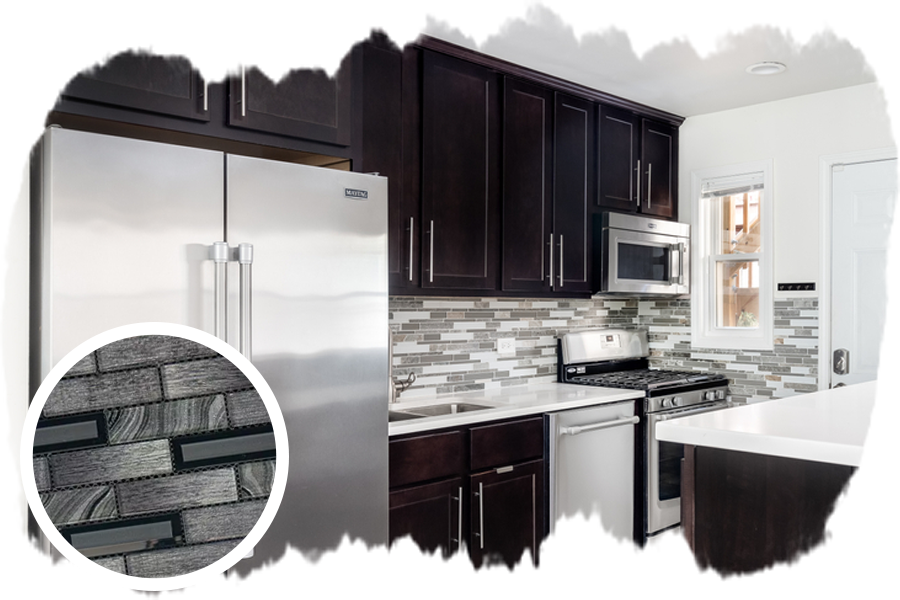 Whilst light and airy spaces will always be popular, there's a growing trend towards using darker colours to add drama and depth to a space. Pair this with the trend for gorgeous copper and gold kitchen fittings, and dark tiles are definitely a trend to watch. If you're nervous about using darker colours in your design, then choosing something like Lux Dark Grey is ideal. The reflective glass surface means light will still bounce around your space, and the mix of shades allows you to dip your toe into the trend for darker tiles, without getting too deep.

Gorgeous Grout
Contrast grout is here to stay, and the classic combination of a retro metro tile with deep grey grout is a stylish addition to any kitchen. We're also seeing a move towards even quirkier irregular grout joints, like the ones in our Dernier brown slim design. The combination of chamfered glass and mixed up joints brings a surprising note of character to your kitchen.

Free Postage On Samples