Swimming Pool Tile Cleaning Guide
Having a pool can be great fun. It is a place where you can relax during the summer, bring the family together or hang out with friends. But to make sure you can enjoy your pool to the fullest, it is important to pay close attention to the correct cleaning processes and ensure that you take care of your pool tiles properly.

Why Should You Clean Your Swimming Pool Tiles?
Regardless of how often you remove the debris from your pool, it can end up looking dirty if you don't take care to also clean the tiles. Stains can accumulate quickly since natural build-ups of sunscreen, body oil and mineral deposits will cling to the tiles.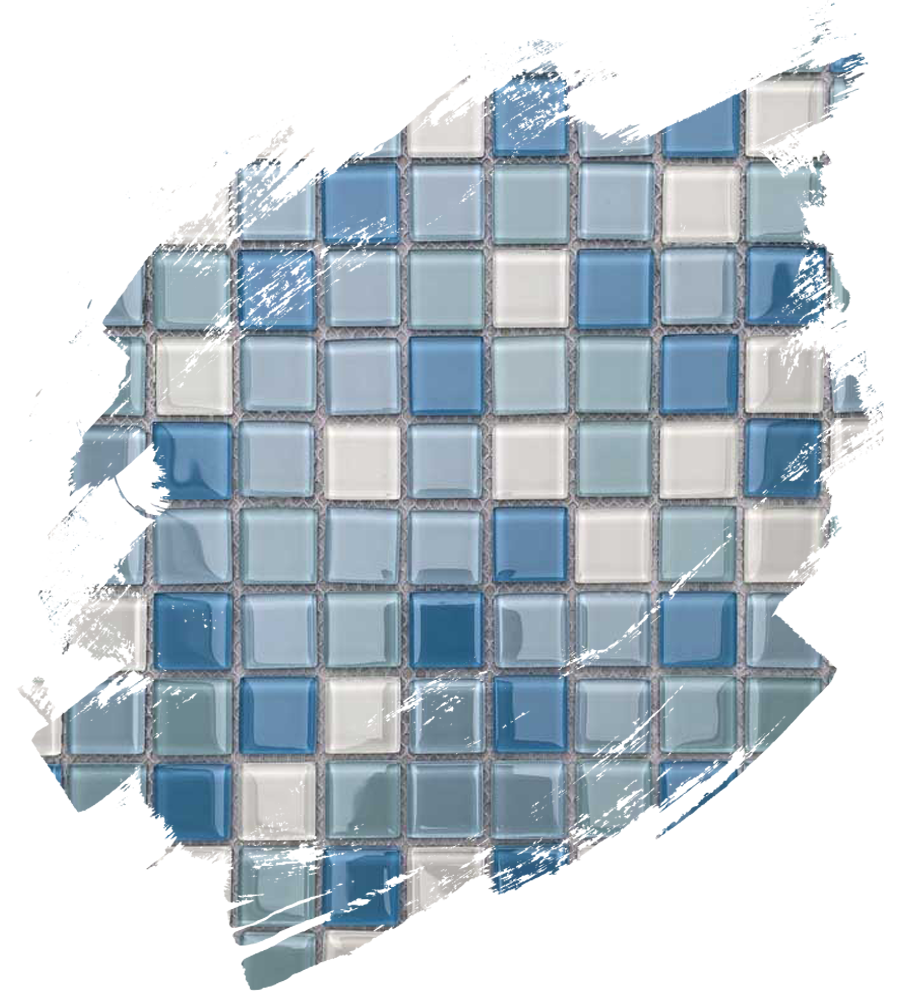 Cleaning your swimming pool tiles can make sure your pool stays fresh and looks modern and inviting. This makes it the perfect place to entertain and will ensure that all your guests leave feeling envious and having enjoyed a great day.

Don't worry if you are a new pool owner or don't know much about pool maintenance, simply read on for some top tips on removing dirt and keeping your pool looking stylish.

What Materials Are Needed?
The first thing you need to do is assemble the correct materials for the job. Some of the things you might need include:

Commercial tile cleaner to remove grime


Melamine sponge to work in cleaning liquids


Dishwashing liquid for dirt removal


Baking soda for removing harder stains


Cleaning vinegar for tough stains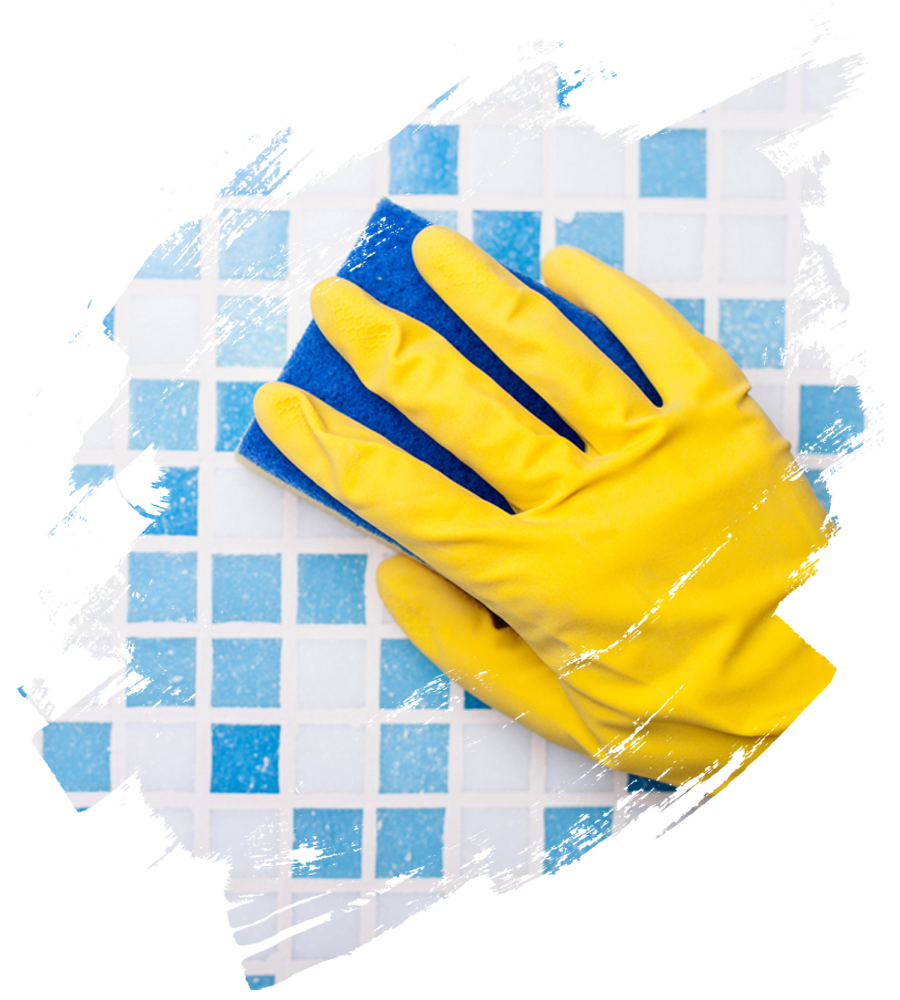 Removing Dirt & Debris From The Pool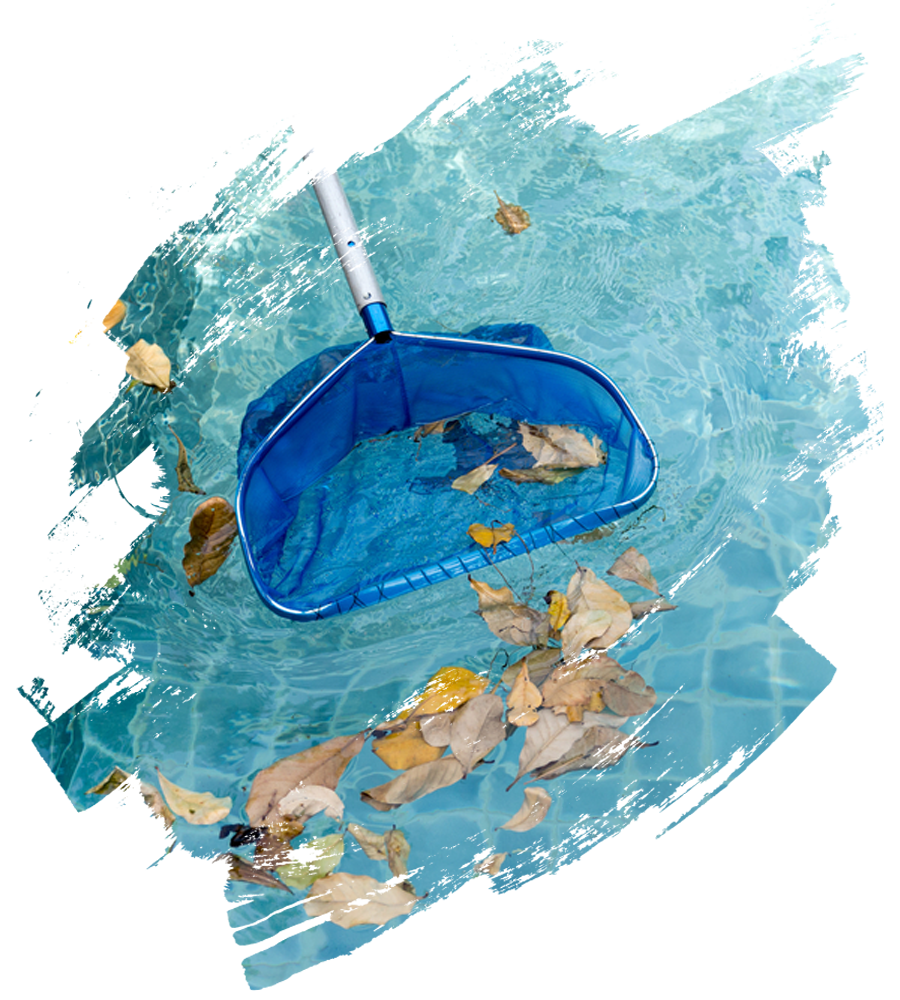 The first step you should take in order to clean out your pool is to remove any larger debris or items from the surface. This could include leaves, grass, soil, plastic and clippings or any other material that could be blown into the pool or end up on the surface, particularly if it is outdoors.

The best way to quickly remove a lot of debris from the surface is using a net skimmer which can collect objects floating in the pool across a large area at once. You can also clear the pool by using a pool vacuum or completing the task by hand.

Drop The Water Line
Once you have cleaned out the surface of your pool, the next thing you need to do is lower the water line. It is important to do this in order to make the process of cleaning the tiles easier for you.

If you are unsure how to lower the water line, there are a few ways depending on the kind of pool you have. If your pool has a filter with a multiport valve or a pump with a drain spigot, you can use these to lower the water level. Otherwise, a submersible pump might be needed, or in the worst case, a garden hose.

Once you have successfully lowered the water line in the pool, you can either get in the pool in order to clean the tiles from in the water or do the same from the pool deck.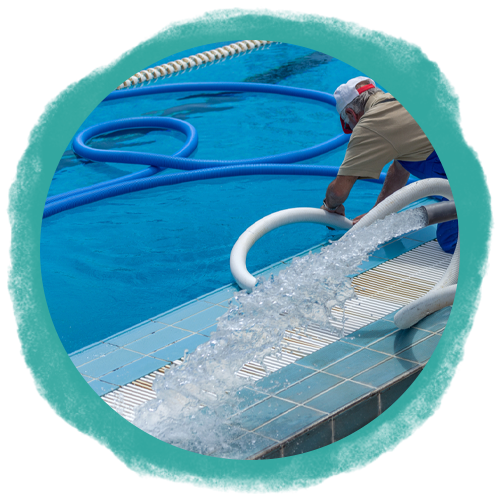 Using a Submersible Pump
If your pool has neither of the previous options, your next best bet is to use a submersible pump. This is a type of pump which is designed for use under the water. Attach a drain hose to this pump and then place the pump inside your pool. Once it has reached the bottom, you can plug it in and the hose will remove the water.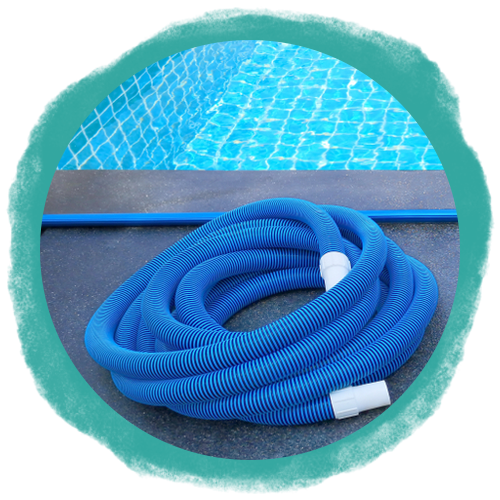 Using the Multiport Valve
If you have a DE or sand filter on your pool then it will also have a multiport valve. This will have multiple settings and you can use either backwash or waste to drain your pool. Either of these will be effective as they both send water from the drainage port of your pool. Backwash will push the water through a filter. This is the option you should choose if you would like to use the water to clean the filter as it exits the pool.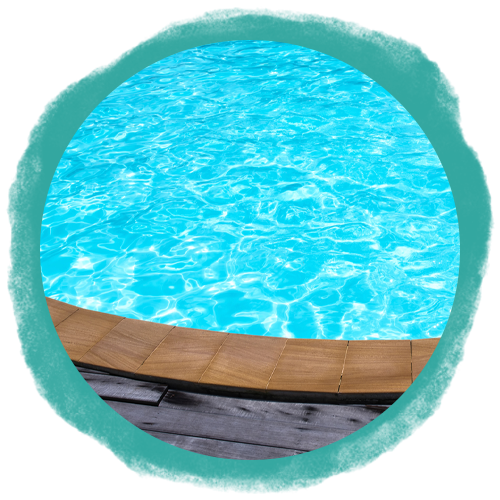 Using the Pump Drain Plug
If you are using a pump with a drainage spigot, it will be found somewhere between the filter and the pump. You can use a hose to connect to the spigot and once you open it, the pump will be able to draw out the water.

Pool Tile Cleaning Tips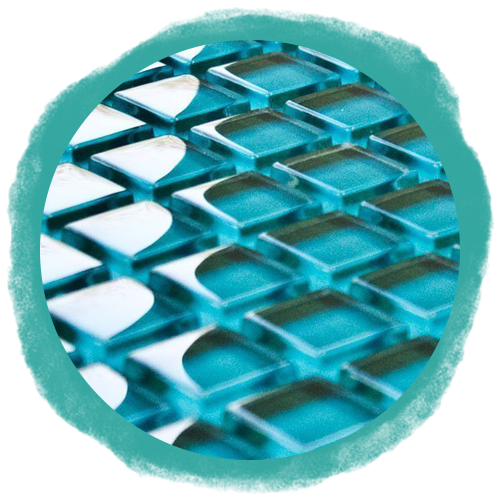 Brush Off Dirt
It is best to first use a stiff-bristled brush to remove any ingrained dirt from the tiles. The best way to do this is to complete circular motions which will avoid damaging or smearing the pool. Be careful about what materials are used in your pool, as surfaces like glass mosaics can be scratched if using an abrasive brush or cloth. While this won't affect the function of the tiles, it can dull their glossy finish somewhat. If this is the case, make sure to use a softer brush instead, or perhaps even a toothbrush for smaller areas.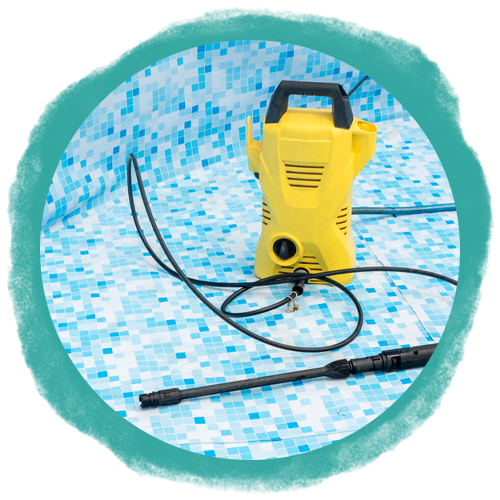 Using A Pressure Washer
A pressure washer might be one of the safer ways to clean your pool, especially if it is made of more easily damaged materials which means a pumice stone is not an option. These can usually be found easily at hardware stores so it shouldn't be hard to pick one up. You will need to ensure that you pick one which reaches 300 degrees Fahrenheit.

Make sure to don protective equipment such as goggles, gloves and boots before you begin and ensure that you work slowly and carefully. To begin with, set the washer to a low setting and check how the tiles look after around half a minute. Make sure there is no damage before continuing with this method.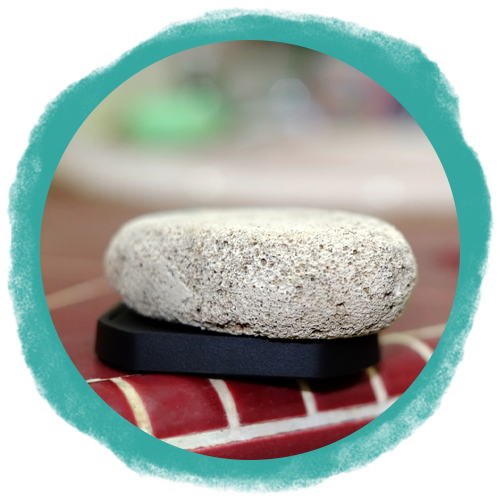 Using A Pumice Stone
Another way to clean swimming pool tiles is by using a pumice stone. These can be found in the majority of pool stores that offer supplies for your pool. A pumice stone is light but also fairly abrasive stone which makes it perfect to use to clean your tiles. This is also due to them being dense and very long-lasting.

Pumice stones can be used to remove strong stains on the tiles and are more reliable when it comes to removing fierce stains and calcium silicate. This is because they can be used more roughly to remove problematic stains. The only drawback that you should be aware of when it comes to pumice stones is that they shouldn't be used on fibreglass or vinyl. So, if these materials are part of your pool, you will need to find an alternative method to clean your pool and avoid damage.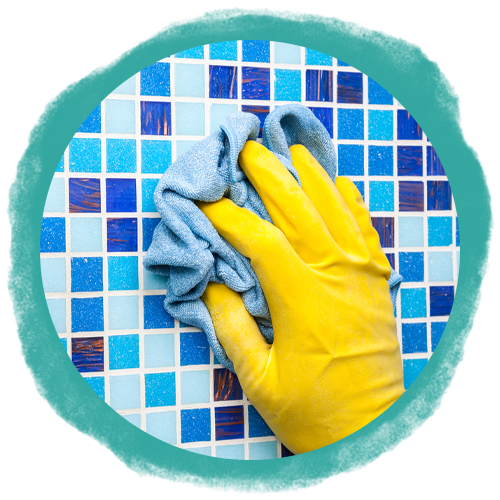 Rinse & Remove Residue
Once you have cleaned the tiles surfaces of your pool, it's worth giving all the surfaces a final rinse with cold water and a wipe down with a soft cloth to pick up any remaining residue.

Remove as much excess dirt as possible, as this will protect your filter from becoming clogged and will help to extend its life. Once you are satisfied that as much first has been removed from the tiles as possible, it's time to begin refilling the pool.

When To Replace Your Pool Tiles
If you have a swimming pool with very old, damaged or broken tiles, then no amount of cleaning will solve your problem. If you have only one or two broken tiles, then these can easily be replaced. However, if you have larger areas that are damaged, or sections of tiling that are starting to become unstable, then it may be time to consider new swimming pool tiles.

While retiling your swimming pool might seem like a large undertaking, it can be a great way to transform a tired looking pool area into a luxurious, relaxing and enjoyable space to spend time in. What is more, old, damaged and unstable tiles can become unsafe and lead to injury as well as potentially costly damage to the pool if not addressed.

In order to create a beautiful space that your family can enjoy and guests will envy, you need impressive tiles. If you're thinking about replacing the tiling in and around your swimming pool, there are now some great options available.

Browse All Swimming Pool Mosaic Tiles