Orange Kitchen & Bathroom
Tile Trends
A brightly-coloured kitchen or bathroom, in orange shades, can be a place of energy and fun. Making the move to an orange room is a bold change, but one that can really pay off.
‍
Orange requires balance. You'll want enough orange in your room, but not so much that it seems overwhelming. That's why designing an orange kitchen or bathroom requires careful consideration, and some thought about shades and styles. Colourful rooms are on-trend. When they're done right, they add character to a home. Refreshing and bright, your orange room could become your favourite room in the house.
Kitchens With Zest
From deep rusty shades to the brightest orange, kitchen walls are a place to experiment and are the first part of the room that eyes will be drawn to. Orange tiles can be very valuable in kitchens. They're easy to clean, so you'll have no trouble wiping away that stray bit of bolognese. If you don't want to go too bold, use mosaic tiles to create a more subtle effect. Orange mosaic tiles can be paired with black or white, or even with a different shade of orange, for a less dramatic appearance. You can also use mosaic tiles of various sizes to be more creative with your designs.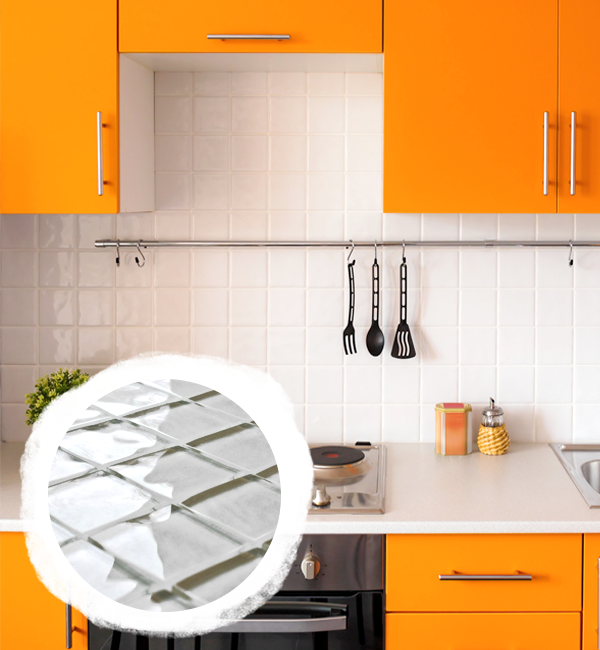 Outstanding Orange Accents
Rather than having entirely orange walls, why not use glass tiles of a different colour to decorate most of your kitchen? Orange tiles can be used as a splash guard above your hob. Having a small section of colour adds character to your room, without taking over completely. Buy orange appliances to make this bright colour more a part of your room, and accessories with orange tea towels and oven gloves. Alternatively, why not keep your walls quite plain? Use black, grey or white mosaic tiles, then fit kitchen cupboards with orange doors as an alternative to having orange walls.
Bright & Breezy Bathrooms
What could prepare you for the day better than a refreshing shower in the glow of your orange shower tiles? Sparkling glass tiles are exceptionally easy to clean, but underfoot use a mosaic pattern or rougher bathroom tiling to reduce any chance of slipping over. The bathroom is a great place to experiment with orange, whether you're decorating half of the wall or using orange tiles specifically within your shower area.
Alternatively, use grey or black tiles and add orange accents in the form of towels, shower curtains, soap dispensers, toothbrush holders and bath mats. Mix different shades of orange, from deep almost-reds to bright fluorescent colours, or decorate one feature wall that will stand out with a zing.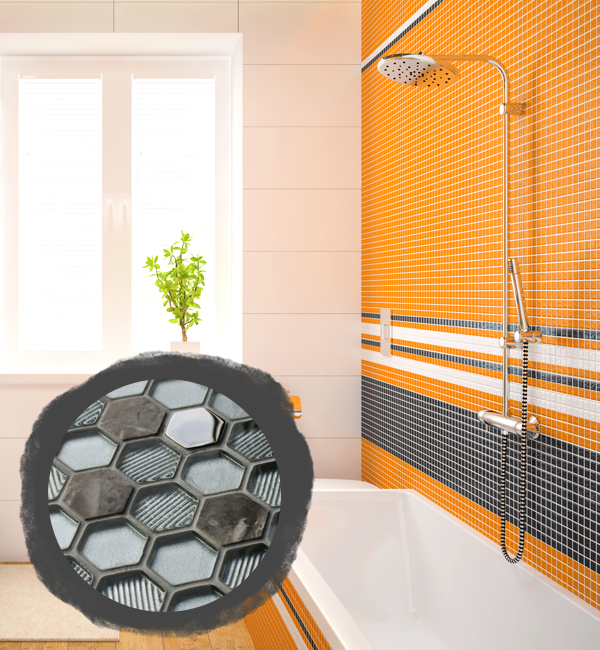 Warm & Homely In Every Season
There's something so beautiful about an orange room. It's the ideal colour for summer sunshine, works well with spring flowers and seems so fitting as the autumn leaves fall. In winter, shades of orange are welcoming and warming even on the darkest and greyest of days.

If you're looking for a kitchen or bathroom that will boost your mood every time you walk in, then orange kitchen and bathroom tile trends may well be worth getting on board with. If you spend a lot of time in your kitchen, or want a bathroom environment that helps you to feel energised and ready for the day, then you'll find that shades of orange will always have a positive impact. Experimenting with orange can require you to embrace the unusual, stepping out of your comfort zone and leaving absolutely nothing to chance. There's a reason that orange rooms bring a smile to everyone's face!