Maintaining Your Kitchen And Bathroom Tiles
Tiling in your kitchen and bathroom can create a beautiful aesthetic and provide a long-lasting option for both walls and floors. However, keeping your tiles clean is essential for both their look and longevity.

Regardless of where your tiles are and the type of tiling you have, ongoing cleaning and maintenance doesn't have to be a challenge. Here, we look at how often you should clean your tiles, what to use and the best strategies to keep them sparkling.

How Often Do My Tiles Need Cleaning?
When it comes to cleaning your tiles, you don't need to do an intensive deep clean every single day. Tiled kitchen floors should be mopped every one to two weeks, with wall tiles being cleaned once a week. 

If you notice any spills or stains, these should be cleaned immediately. Grout should be cleaned once every few months, and at least annually, with spot cleaning whenever you notice it looking dingy or dirty. 

With bathroom tiles, they should be cleaned weekly and regularly checked for signs of mildew or mould. Your kitchen tiles are less likely to be in regular contact with water, however it's still wise to clean any tiling around your work areas after each use, and to clean the rest of the tiles on a weekly basis.

Top Cleaning Products To Use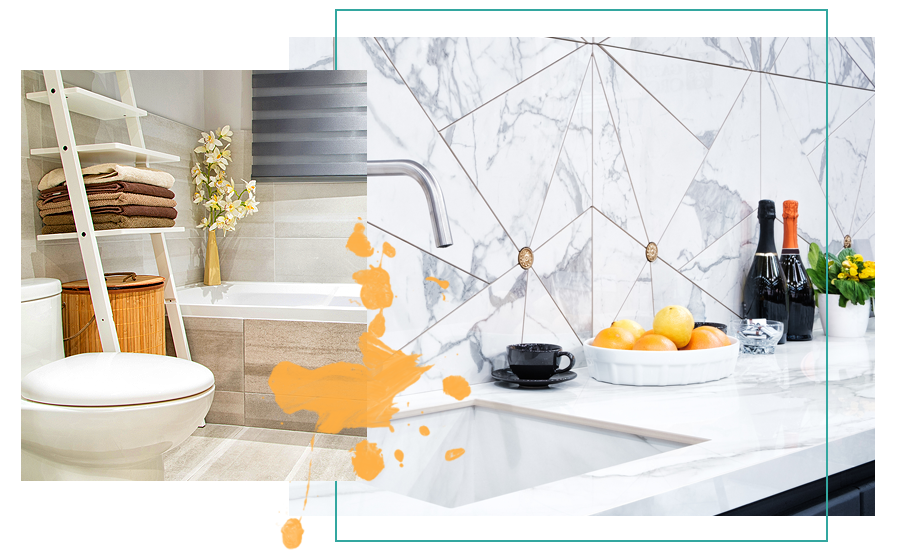 Depending on the type of tiles you have, there are many different cleaning products that you can use to clean them effectively. 

If you have ceramic or porcelain tiles, alkaline cleaning solutions are usually the most effective and least damaging. If your tiles have oil stains or other stubborn marks, then gentle acid solutions can be used – and can also be used on porcelain tiles.

Bleach and other strong cleaning solutions can be suitable for some tiles, but it is generally better to opt for milder options. A 50:50 mixture of vinegar and water can be used on both kitchen and bathroom tiles, and bicarbonate of soda and washing-up liquid can also be used to clean off surface staining. 

These mild products are great for regular cleaning or spot cleaning, and won't cause damage to tiles or grout.

Best Ways To Clean Kitchen & Bathroom Floor Tiles
For floor tiles in the kitchen and bathroom, weekly mopping is recommended as these are high-traffic areas. As such, they can harbour germs and bacteria. 

Avoid any cleaning products which contain wax, as these can actually cause dirt to stick to the floor. Regular brushing with a gentle brush and mopping can help to remove surface dirt, and you can use washing up liquid or detergent with warm water. This can be left on your floor tiles for ten minutes in order to work through any built-up dirt, before being mopped away with clean water.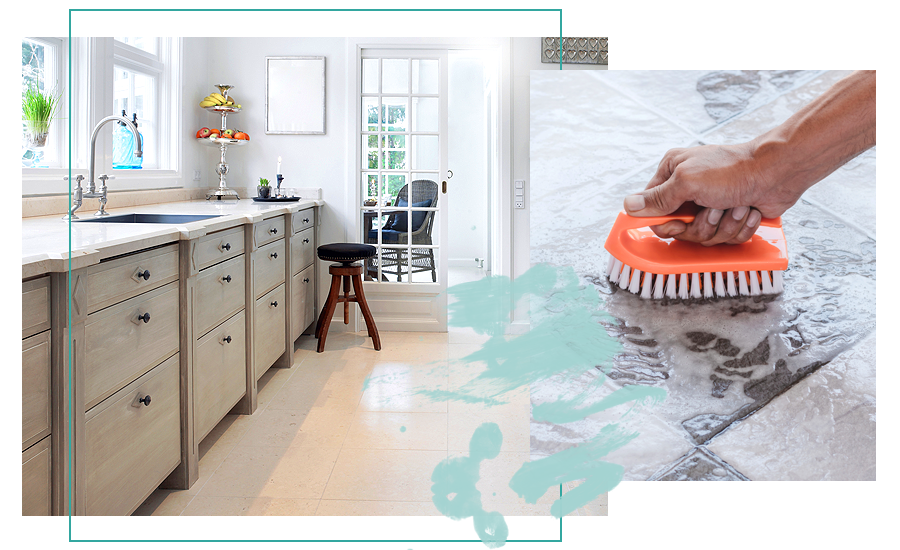 When you have mopped the tiles, make sure to dry them thoroughly with kitchen roll so that any moisture is removed and will not cause mildew or mould to build up. Solutions that are too acidic or too alkaline should also be avoided so as not to damage tiles or grout.

When it comes to different materials, natural stone is a popular choice for tiles. If you have natural stone floor tiles, you should ensure that you use a product formulated for your type of floor, such as marble, limestone or granite. It should have a neutral pH, and should not be applied with harsh scrubbing brushes.

Best Ways To Clean Kitchen & Bathroom Wall Tiles
Kitchen and bathroom wall tiles should be wiped off regularly. Kitchen wall tiles can often attract loose dirt or food, so wiping this away with a dry cloth can make cleaning easier. You can then wipe down tiles with a neutral cleaning solution and warm water, before rinsing with clean water. 

Again, tiles should be dried and polished as leaving them wet can encourage mould. Avoid using abrasive scrubbing cloths or sponges, as this can damage ceramic tiles and grout. If you cannot remove stains or oil with a mild solution, a more acidic cleaning solution may be used.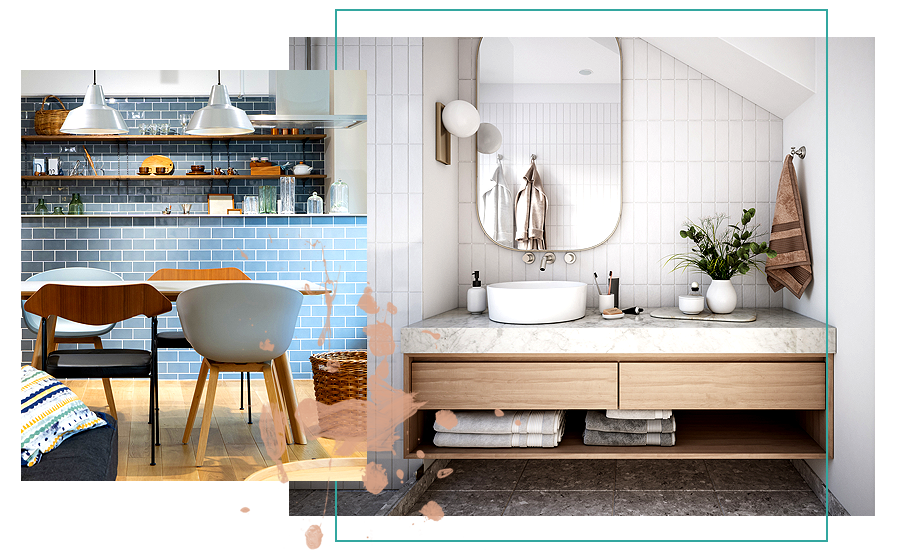 If you aren't sure which cleaning solution will be best for your tiles, a patch test can be a great way of checking what the outcome will be.

Porcelain and ceramic tiles are commonly used in bathrooms and kitchens, and these should be cleaned carefully. Porcelain and ceramic tiles should be cleaned with gentle solutions and soft bristle brushes. Avoid using too much soap with ceramic tiles, as this can create a dull finish.

Options like glass mosaic tiles are popular for splashbacks in the kitchen, or used as trim or for feature walls in bathrooms. They tend to be hard wearing and most cleaning products can be used on them safely. However, it's important not to use harsh items like wire scrubbing cloths to avoid scratching the surface of the glass. Instead use soft cloths, or cleaning tools made from materials like silicone.

The Importance Of A Well-Ventilated Bathroom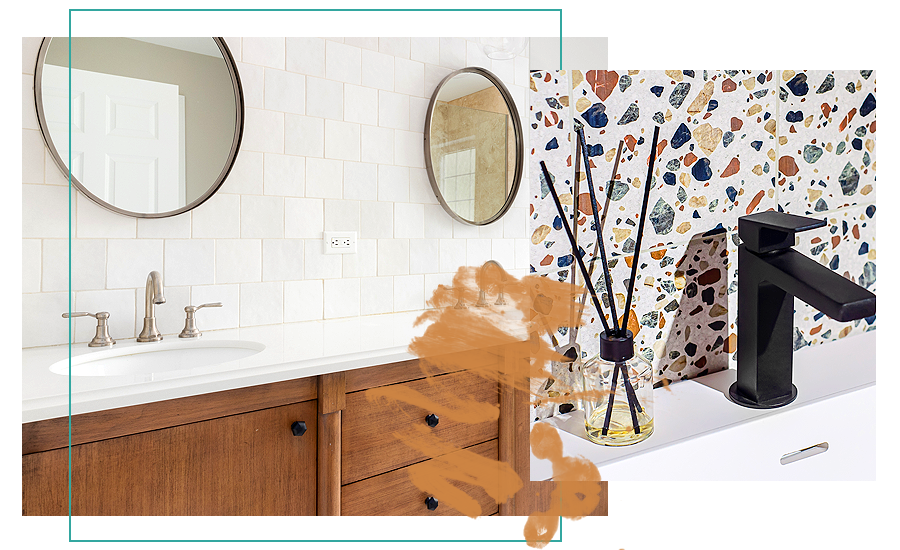 Your bathroom can be the ideal breeding ground for mould and mildew, and you will often find that tiles and grout are impacted by this quite quickly. Mould can travel easily throughout the rest of your home on clothes and through the air, as well as damaging your grout.

Keeping your bathroom well-ventilated is essential for reducing the amount of damp in the space. You can do this by ensuring that you open a window during and after taking a bath or shower, and/or use a vent fan to clear moisture. By leaving the window open or vent fan running after your shower or bathe, you can fully remove moisture.

Grout Cleaning Tips
When you begin to notice your grout looking discoloured or spot mould or mildew, you may be tempted to reach for a chemical cleaner. This can actually be damaging to your grout, so in the first instance, you should use a scrubbing brush to remove the dirt. If this doesn't work alone, a homemade mixture of baking soda, washing-up liquid, and hydrogen peroxide can be placed on the grout and left to sit before you scrub the grout with a toothbrush or scrubbing brush.

Discoloured grout can have a negative effect on the look of even new tiles, so taking the time to clean your grout thoroughly creates a more consistent and bright appearance, as well as reduces harmful mildew in your bathroom and kitchen.

Cleaning your kitchen and bathroom tiles can keep them looking fresh and new for years to come, and create a healthier environment in your home. With these simple tips, you can enjoy beautiful tiles easily.