Guide To Commercial
Swimming Pool Design
There are many aspects to consider when designing a commercial swimming pool, from the shape and dimension of the pool itself to the safety requirements and tile finishes. 

Whether you are planning a commercial pool designed for competitive swimming or a more casual, relaxing swimming pool, our latest guide is designed to take you through the various factors to consider.

Where You Can Find Commercial Swimming Pools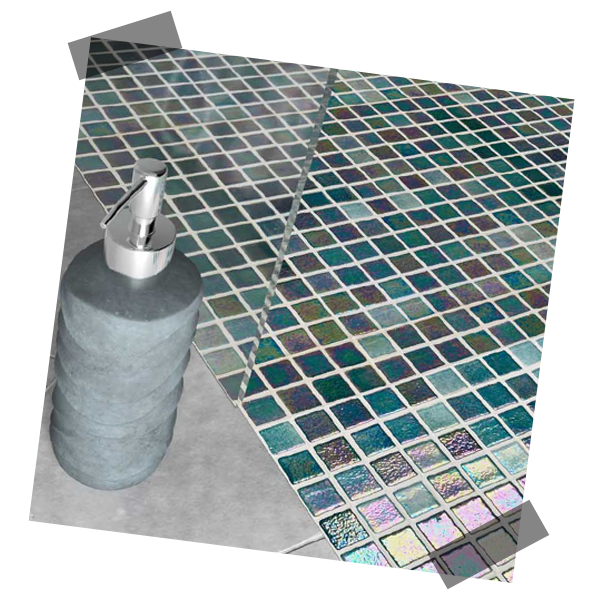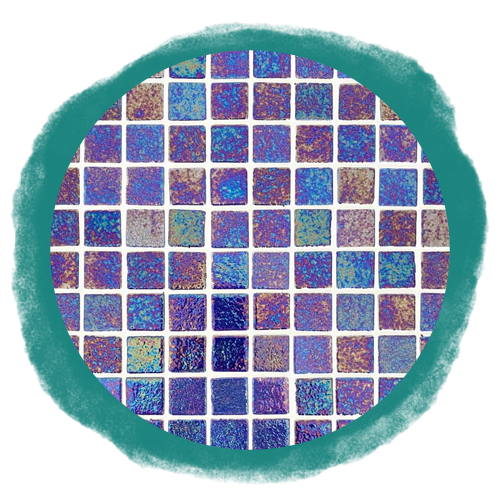 Commercial swimming pools are used by many industries, including health clubs, gyms, hotels, spas, and schools, with pools designed to suit all types of swimmers. 

These pools can be open to the public or private, with both indoor and outdoor commercial pools popular with professional athletes, recreational swimmers, those who are learning to swim and people who simply want to relax. 

To attract customers within an often-competitive industry, a well-designed, modern pool is essential if it is to become a commercial success.

Commercial Swimming Pool Design Elements
The design of a commercial swimming pool is extremely important, with initial design choices based on the shape, size, and depth of the pool. In most situations, how the pool is used will dictate the overall design, with swimmers often searching for pools for professional training, diving, leisure use, and rehabilitation.

For example, if the pool will be used for competitive swimming, these pools are commonly rectangular or square, although kidney shapes, oval and round designs are popular if the pool will be used for multiple purposes.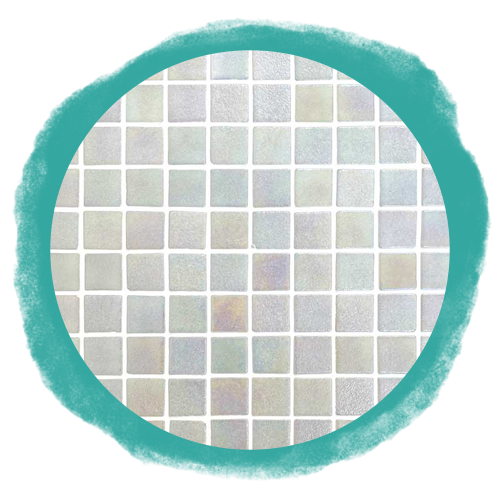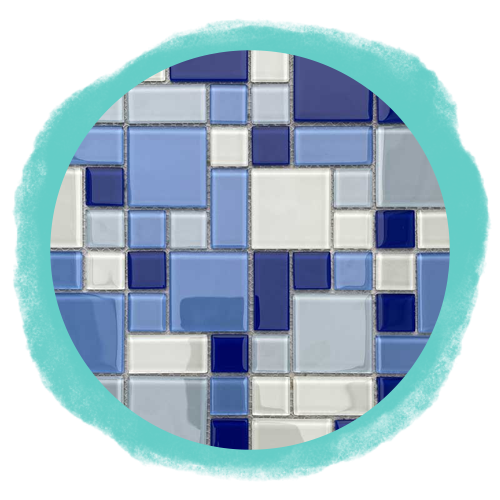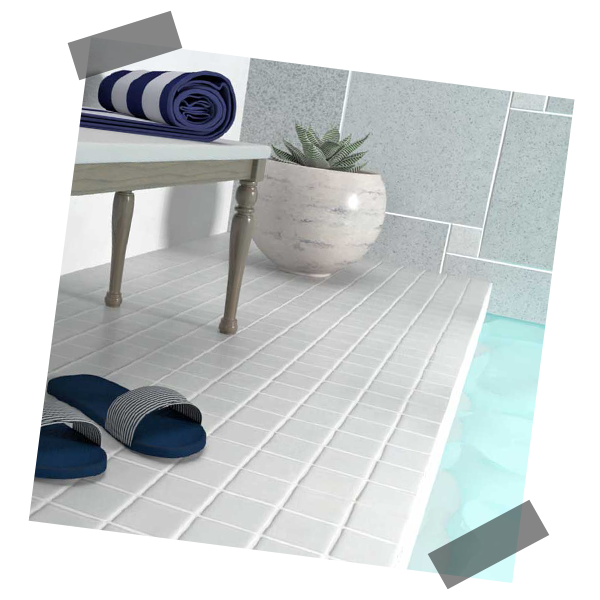 Many commercial pools in gyms feature a simple rectangular design, as users will likely want to be able to focus on swimming lengths for fitness purposes. 

Pools in facilities that serve families or recreational users often feature lower gradients and larger shallow areas, may be more intricate in terms of shape, and also often include additions such as wave machines, waterfalls, water jets and jacuzzi elements.

Pool Shape, Size & Style
Sizes of commercial pools can vary greatly, with smaller pools often popular in hotels and health and wellbeing environments. The largest Olympic-sized swimming pools measure 50x25m and are often used for competitive swimmers and those who enjoy swimming for fitness, so you will find these in health clubs, gyms, and leisure centres. 

In terms of pools that are used for competing, there are strict standards set by the International Swimming Federation (FINA), which state that pools must have at least 8 lanes, be at least 1.35m deep and be either 25 or 50m long.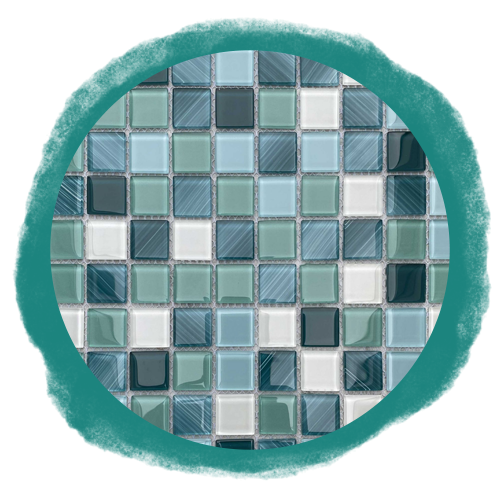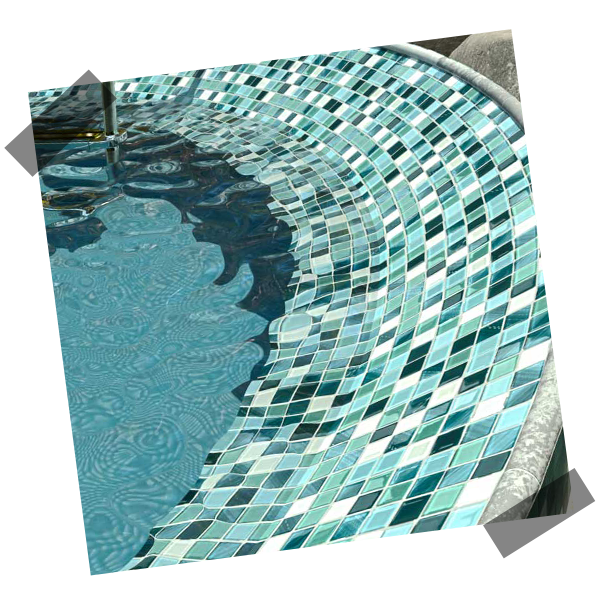 The most basic depth type of a commercial pool is a flat shape, where the depth remains constant throughout the pool, although for multi use commercial swimming pools the gradient may change to appeal to all swimmers. For example, recreational commercial pools often feature a sloping gradient, with pools that are used for diving featuring a deep spoon shaped area to the centre of the pool to ensure maximum diving depth.

The actual shape of the pool can vary widely from the standard geometric square, rectangular, round, and oval-shaped pools through to the more complex kidney, Grecian, and freeform designs. Although the rectangular shapes are often preferred for commercial swimming, the FINA rules do allow the various pool shapes listed above for competitive swimming, as long as the length of the pool, depth and the requirement for 8 lanes is met.

Pool Tiling
Once the actual shape and size of the pool are decided, it's the choice of tiles that will add the finishing touch to the overall design. Ultimately, the ideal swimming pool tiles will enhance the overall design whilst also being easy to clean and maintain.

Tiles within pools need to be far more resilient than standard wall and floor tiles, as they will be constantly exposed to water and harsh chemicals, and they may even have to withstand both hot and freezing temperatures depending on where the pool is installed.

Browse Swimming Pool Tiles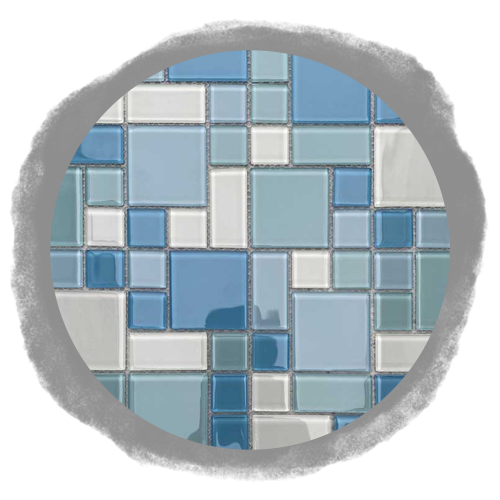 Glass Mosaic Pool Tiles
Glass mosaic tiles are the preferred tile of choice for swimming pools as they will naturally reflect light to enhance the sense of space, whilst adding a touch of luxury to the commercial pool. These high-quality tiles are completely resistant to the effects of water submersion, chemicals, and temperature fluctuations, and it is also easy to maintain the shine of glass tiles. There are a range of colour options available, making glass mosaic tiles perfect for use in everything from a large outdoor pool to an indoor hydrotherapy pool.

The right choice of colour option will of course depend on the intended use of the pool. Options include classic blue and turquoise tiles that are ideal for both large and small pools. Deeper blues, blacks greens and purples in iridescent finishes look stunning in a contemporary setting and help to convey a real sense of luxury in wellness centres or private members spaces. Meanwhile, lighter neutral shades offer a sense of openness and bring a feeling of tranquillity to any pool or spa area.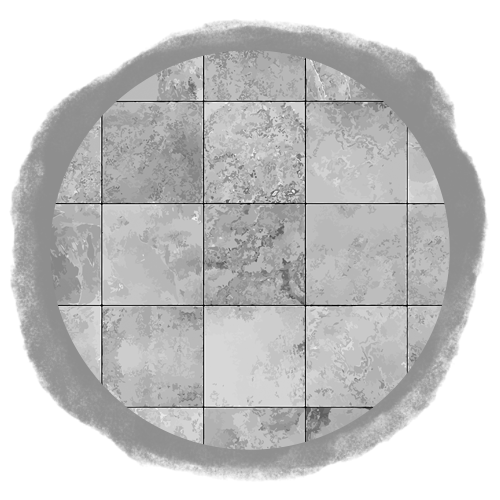 Porcelain Pool Tiles
While the overall finish of porcelain tiles is very similar to ceramic, the high firing temperatures ensure improved durability, colour retention and waterproofing. This resistance allows porcelain tiles to be cleaned with chemical solutions to ensure the overall finish is maintained.

Ceramic Pool Tiles
If you are searching for a budget tile option, ceramic tiles are an affordable choice. The tiles are waterproof, durable, easy to clean, and they will maintain their colour for many years, although the quality sometimes doesn't match up to porcelain tiles which are fired at much higher temperatures.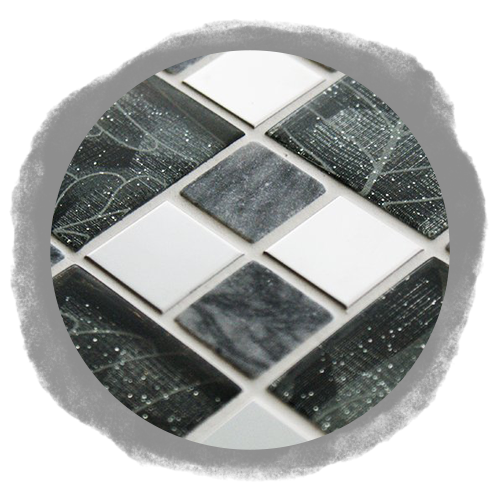 Natural Stone Pool Tiles
For centuries natural stone tiles have provided a decorative choice for designers, with sandstone and limestone often being popular choices. The natural colour and finish of stone are particularly appealing for outdoor pools, and the finish will not be damaged by the sun. However, as stone is porous, the tiles should only be used around the edge of a pool, and they will require regular sealing to ensure they are not damaged by water.

It is also important to consider the type of adhesive and grout used, as they must be able to resist the effects of the pool chemicals and the water itself to maintain long-term durability.

Styling Your Pool Environment
There are some great choices when it comes to swimming pool tile styles. Here are some of our favourites: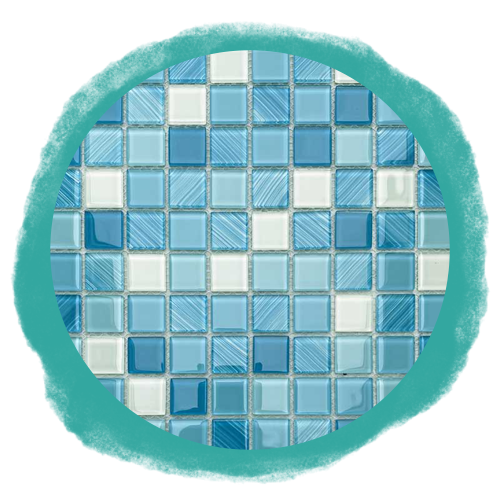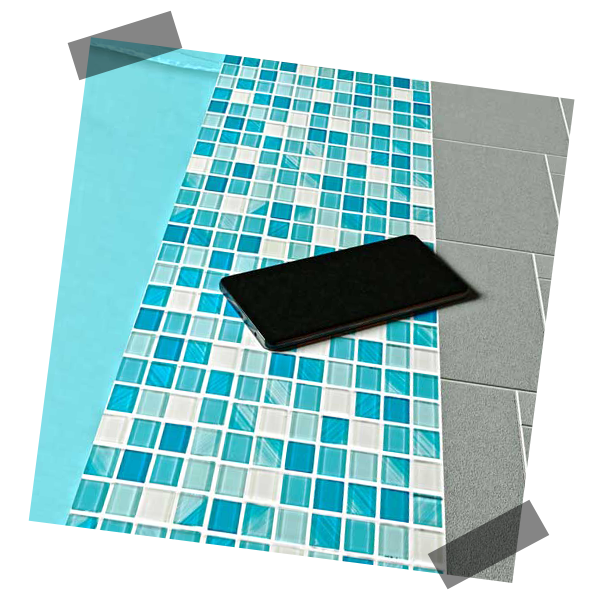 Contemporary Luxury
For a truly awe-inspiring pool, opt for iridescent effect brick tiling which offers a magical shimmer not unlike that of the spectacular northern lights. This is a unique, show-stopping design which will definitely be the talk of the town once it is seen by your guests. For a space to escape, for guests to swim in style, or evenings lounging in the pool, this is a great option. Colours like blues and greens mix with blacks and purples for a modern look that really pops, especially in combination with the movement and reflections of the water.

Sleek & Elegant
For an elegant look you could opt for tiles in neutral tones. These classy pool mosaics offer a more muted style that looks timeless in a pool setting. Natural looking tiles are a great way to add a sense of the outdoors to your pool and style the area into a sophisticated space. Sleek yet warming neutral shades will offer the perfect backdrop to any kind of furniture, planting and decor you want to use, and are a great way to achieve a relaxing spa-like ambience in your pool area.

Classic & Uplifting
A classic pool look can be achieved with blue, green or turquoise mosaics which offer a vibrant seaside feel and laid back summer vibes. The light, happy colours make these tiles a great choice for families with children or anyone who would like to add a splash of uplifting colour to their outdoor or indoor pool area. If you want a slightly cleaner classic look, opt for monochrome square mosaics in mixed back and white. Or for a fun mix of shapes and colours there are some gorgeous modular options in blues and greens.

Swimming Pool Safety Requirements
Although the overall aesthetic design of a commercial pool is important to attract customers, it is also essential to consider the health and safety requirements during the initial design phase. 

The main safety aspects are covered within BS EN 15288-1:2008, which refers to various regulations for safety in terms of the design and operation of the pool.

The majority of commercial swimming pools will include three key areas, the pool itself, wet areas and dry areas, although in many situations these areas can overlap. The surrounding slab and deck away will need to include falls to encourage water into drainage channels, with special consideration given to any rooms which are located adjacent to the pool edge as water may find its way into these areas.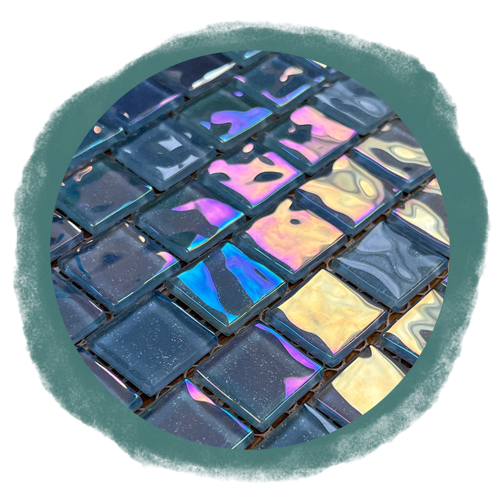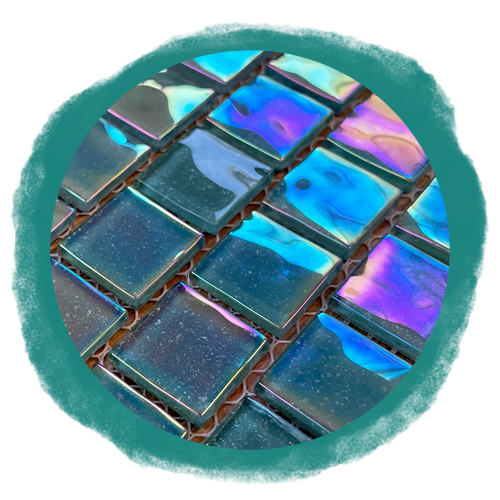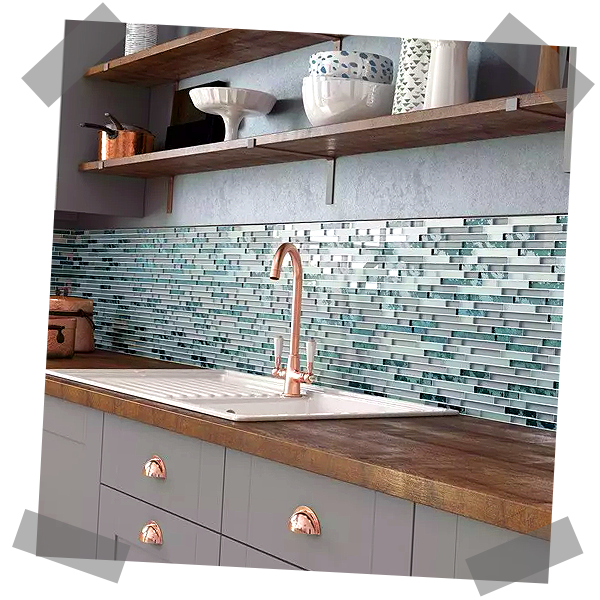 In terms of the pool tank, there should be no sharp edges, any openings and edges must be covered by a protective grill and where rails are provided, they should be fitted in a way which ensures limbs cannot be trapped. In addition, warning marks, turning pads and targets, should ideally be a contrasting colour, with black and other dark colours often used to contrast against the surrounding tiles.

Similarly, the pool edge should be a colour that is designed to contrast against the water in the pool to ensure the surface is clearly visible. In addition, the tiles used to surround the pool must provide adequate slip resistance. 

Ceramic and porcelain floor tiles will offer a slip resistance figure, and regular cleaning is required to maintain the textured surface. The pendulum test is used to replicate a human heel to measure the resistance of a surface underfoot in both dry and wet conditions, with the surface rated from 0 through to 36. The higher the rating the lower the risk of slips, so always opt for tiles with a high PTV rating.

There are also many other design considerations that will impact guest experience and the safety of the areas surrounding the pool. For example, swimmers should have safe access to the pool via a ladder, gradual slope or built-in steps, lighting should be bright with all warning and information signs clearly highlighted, and the changing facilities should be designed with anti-slip tiles.

Commercial Pool Supplies
In addition to providing a well-designed commercial pool, there are many extra items that can be provided to guests to enhance their experience.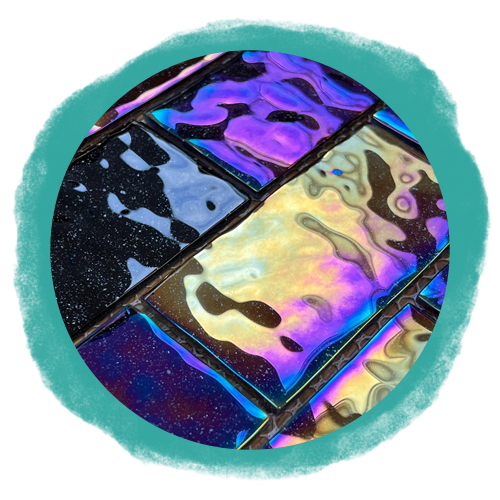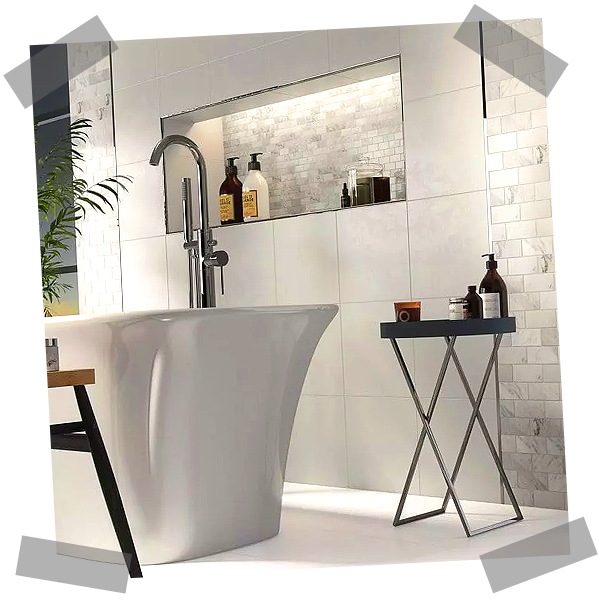 For example, branded towels, slippers, bathrobes, and a free supply of drinking water will all help to make guests feel comfortable and well taken care of. 

By considering these items during the initial design phase, it is possible to ensure they are placed at easy-to-reach points and the style of the items can be designed to match the overall colour scheme of the pool itself.

Design Your Commercial Swimming Pool
There are so many tile options available, and at Mosaic Village we pride ourselves on our ability to recommend the perfect tiles for your project. 

Our swimming pool mosaic tiles are the most popular choice for commercial pools, with blue tiles often being the traditional colour option. However, we are pleased to offer every colour ranging from whites and greys through to gold and black, with the darker tones perfect for outdoor pools as they will help to absorb heat to increase the water temperature. 

There are a range of finishes available including modern iridescent designs, brick patterns, timeless matt finishes and traditional glass square tiles.

Our customers are often surprised at the visual effects created with different coloured tiles, so we are always happy to offer samples of the various options within our ranges. Whether you are searching for tiles to line your pool, waterline tiles or surrounding coping tiles, our team will be more than happy to help you find the stylish, high-quality tiles your commercial swimming pool project requires. To find out more, please contact our team today.

Browse Swimming Pool Tiles