A complete guide to swimming pool mosaic tiles
When planning a swimming pool installation, whether for a residential or commercial project, one of the most important elements to specify is the choice of tiling that will be used. A swimming pool can include decorative tiling to impart an image of luxury and elegance, and the tiles you choose enhance the pool's appearance by making use of reflective light, intensifying colours and textures. It's also important to specify the right kind of tiles for your swimming pool, to ensure a high quality, high performance finish that isn't a headache to maintain.

Installing a swimming pool in a gym, hotel or even your own home has many health benefits. Swimming provides aerobic exercise for the entire body, improving the function of the heart, lungs and circulation. It strengthens muscles yet provides gentle exercise for arthritic joints, and is widely recommended in physiotherapy to help recovery from injury. You can also enjoy plenty of relaxation while swimming, helping to relieve your mind of the tension of everyday life.
‍
Swimming pool mosaic tiles have been favoured since they were introduced around 3,000 BC. Combined with today's materials and techniques, mosaic tiles add a luxury finish that can make your swimming pool look superb.‍

Browse Swimming Pool Tiles
What Kind of Tiles are Used in Swimming Pools?
Swimming pool tiling has to be exceptionally resilient. Tiles are continuously submerged in water and regularly exposed to chemicals including chlorine and cyanuric acid. An outdoor swimming pool has to withstand a wide range of temperatures, from searingly hot summers to freezing winter chills. Pool tiles have to combat sunlight, which can be particularly harsh, causing the colours of unsuitable materials to deteriorate whether your pool is indoors or outside. 
‍
Household tiles typically used in bathrooms and kitchens aren't generally manufactured to withstand such extremes as pool tiles. This means they can be less water-resistant. They can quickly blister and crack under extreme conditions, making them unsuitable for swimming pool use. It's therefore necessary to choose tiles that are specifically designed for use in a swimming pool.
‍
The edging around a swimming pool is known as coping. It neatens the edge of the pool, protecting the tiles inside it and ensuring water tipped out of the pool drains away properly. The coping should create a reliable non-slip surface that's fadeproof and easy to clean. 
‍
For a coordinated look, it can be made from the same tiles as inside the pool. Alternative coping materials include tiles of natural stone, such as travertine and granite. Pavers of brick and concrete are also suitable.

Swimming Pool Tile Materials
The tiles lining the inside of your swimming pool can be made from a variety of materials. When you're selecting mosaic tiles for a swimming pool, it's worth considering all the options to find what's best for your individual requirements.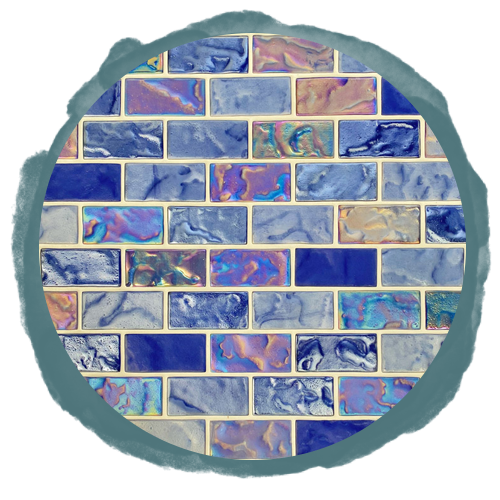 Glass Swimming Pool Tiles
Choosing glass for your swimming pool mosaic tiles adds a stylish touch of luxury. It can sometimes be slightly more expensive than other options, but it does have outstanding qualities. Glass is completely non-porous, making it perfect for being submerged in water long-term. It's also resistant to extremes of temperature and the sun's damaging ultraviolet rays.
‍
Glass mosaic pool tiles are hygienic, very easy to clean and won't be damaged by chemicals. They also enhance the appearance of your pool. Glass mosaic tiling has a lustrous, sparkling sheen in sunlight and artificial lighting. It also creates the illusion that your pool is larger than it is. Mosaics made from glass tiles have a wider colour range than any other type of pool tiling, allowing you to create imaginative designs.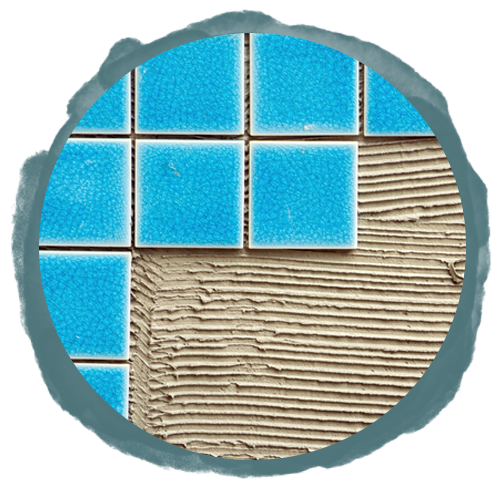 Ceramic Swimming Pool Tiles
Ceramic mosaic tiles are viewed as an affordable choice. The material is fired at a high temperature to ensure it's waterproof and durable. There's a wide range of colours that remain bright over many years. Ceramic is an easy material to work with, enabling you to create intricate designs from tiny mosaic tiles. Ceramic has anti-allergen properties, is easy to clean and is reliably slip-proof.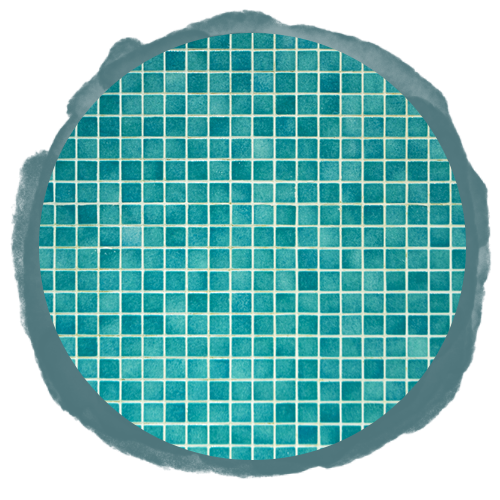 Porcelain Swimming Pool Tiles
Porcelain tiles are similar to ceramic, but they have improved qualities. They are made from a slightly different clay and are fired at much higher temperatures. They have superior durability, particularly in areas of heavy footfall. Porcelain has enhanced waterproofing and an excellent colour retention. The non-slip surface can be hygienically cleaned with chemical solutions. One disadvantage of porcelain is it's more brittle than ceramic when being cut to shape.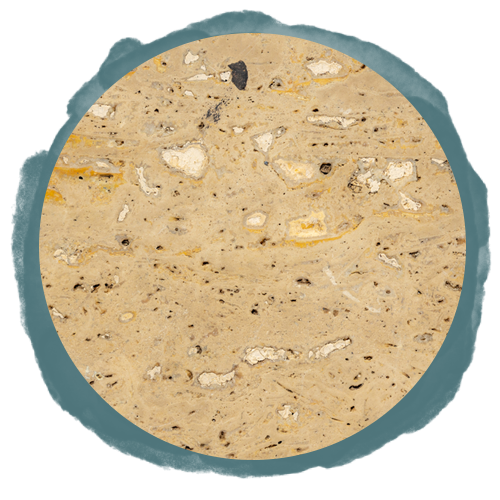 Stone Swimming Pool Tiles
Natural stone such as sandstone or limestone has been used in pools for centuries. It has strength, longevity and isn't affected by the sun. The natural grain patterns and colour tones create an aesthetically pleasing appearance, particularly for outdoor pools. However, stone is porous and isn't usually recommended for use inside a pool. If you like the look of stone tiles, it's best to use them in areas surrounding the pool, and to ensure they are regularly sealed to prevent water damage.

Tiles For Concrete & Fibreglass Pools
Although the shell of your swimming pool could be made of concrete, it's not suitable to leave it exposed. It's highly porous and needs to be regularly sealed. It's also high-maintenance as it encourages algae and has to be rigorously cleaned. A fibreglass swimming pool shell is waterproof and less likely to stimulate algae growth. However, neither material is aesthetically pleasing unless tiled.

What Are The Best Tiles For Swimming Pools?
Mosaic tiles undoubtedly create the best surface for the inside of your swimming pool. Ceramic and porcelain are often popular, but the best material of all is glass mosaic tile. 
‍
Glass has a beautifully soft, silky texture that's comfortable on bare feet. It's ideal for any temperature, making it a versatile choice for an outdoor swimming pool or a plunge pool in an indoor spa. Glass offers an extensive range of colours and its translucent qualities add increased interest, vibrancy and luxury.

Swimming Pool Tile Colours
Swimming pool mosaic tiles have endless artistic potential. There are many colours to choose from, enabling you to design elaborate motifs and patterns. 
‍
The predominant colour of the tiles is important as it creates an atmosphere and even influences the water's temperature. If your pool is outdoors, remember that dark colours absorb more of the sun's heat, helping the water to feel warm. Pale colours have the opposite effect by reflecting the sun and cooling the water.

Why Are Swimming Pools Usually Blue?
Whichever colour you choose, the water itself will inevitably appear blue. It's a phenomenon that occurs when natural or artificial white light passes through any clear water. It absorbs various colours such as yellow and red, which have a low-frequency in the colour spectrum. As they are removed from the water, high-frequency blue is left behind. Deep water has a greater intensity of blue colouration.
‍
On top of this, a traditionally popular choice of colour is blue swimming pool tiles. This amplifies the effect, and is why most people think of the colour blue when it comes to swimming pools.

What Colours are Available for Swimming Pool Tiles?
There are literally dozens of colours to choose from for mosaic tiles apart from traditional blue and turquoise. They range from white, pale grey and yellow ochre to brown, orange, green and black. There are several options for each colour including light and dark shades. 
‍
Classic colour schemes usually include pale blue, while for a contemporary image, choose dark or contrasting tones.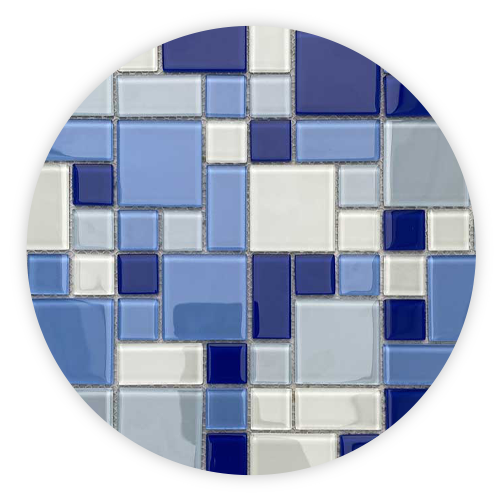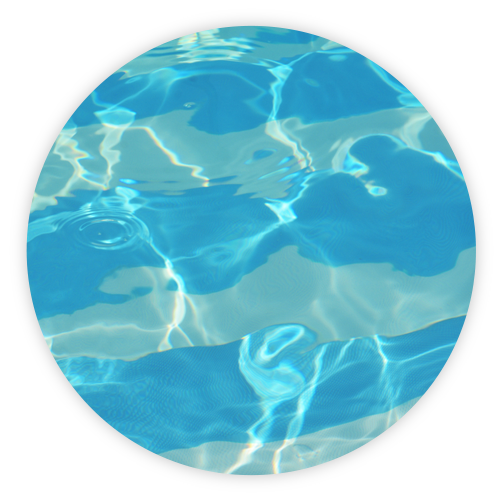 Does Tile Colour Affect the Colour of the Water?
Tiles can be used to create many subtle colour effects. When seen through the water, swimming pool tiles in pale brown or orange tend to acquire a green or turquoise appearance, while pale grey can look like soft, smoky blue.
 
Tiles in contrasting colours help create striking colour tones for the water itself. Choose alternatives to traditional blue and your swimming pool can acquire a unique, customised appearance.

What Are Waterline Swimming Pool Tiles?
When installing your swimming pool, you have the option of including waterline tiles. They form a narrow band of approximately 15 cm (6 inches) around the top edge of your pool just below the surrounding coping tiles. 
‍
Waterline tiles effectively seal the raw edges of your pool's liner, making it look stylish and neat. They also contribute to easier pool maintenance by collecting debris such as greasy sunscreen lotions that build up on the water's surface. You can easily scrub scum and residue from the waterline tiles.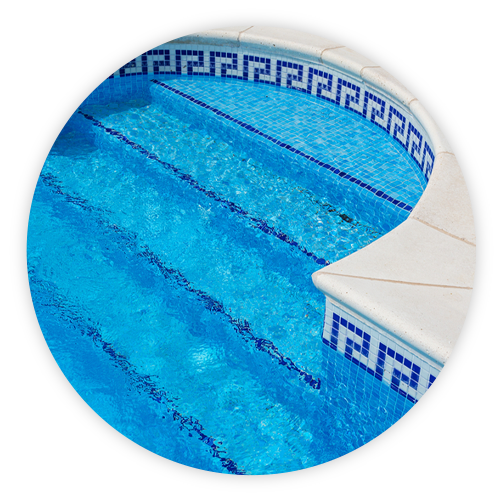 Swimming Pool Mosaic Styles
One of the most exciting stages of planning your swimming pool is choosing the design of the tiles. There are so many patterns, shapes, materials and finishes, your pool is sure to look unique.

Modular Swimming Pool Mosaics
Mosaic tiles for your swimming pool aren't usually installed individually. A modular system uses large panels consisting of many small tiles, making installation quick and easy. The edges of modular panels often interlock to form seamless tiling with a consistent pattern. Panels may include randomly placed, small tiles of different colours or varying shades of a single colour. The tiles within a modular panel might also be arranged in a specific pattern.

Iridescent Swimming Pool Mosaics
An attractive design is the iridescent pool tile. It's usually made of glass mixed with tiny metallic particles. As light moves upon the pool, each tile shimmers and sparkles in an ever-changing rainbow of subtle colours. Iridescent tiles can be used throughout your pool or to enhance features such as steps, edges or floor patterns. Your pool should look luxurious and glamorous.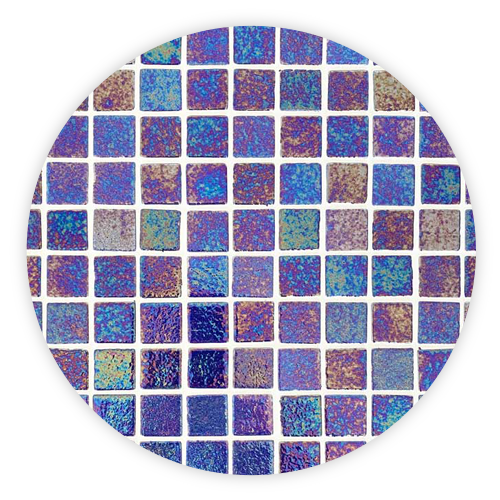 Matte Swimming Pool Mosaics
Choose a matte finish for your pool tiles, and they'll have a slightly textured, shine-free surface. They are ideal if you want to cut down the glare and reflections of a swimming pool in full sun. Matte surfaces tend to need less maintenance as streaks and marks aren't as noticeable as on a mirror finish. However, the texture of the tiles often makes them slightly harder to scrub clean.

Square Swimming Pool Mosaic Tiles
The square pool tile is timeless, creating a smooth, spacious image. A modular mosaic panel might include square tiles in regularly spaced rows or squares of different sizes to make an attractive, randomised pattern. The squares can be in one or more colours. Large square tiles are easy to install and require less grouting.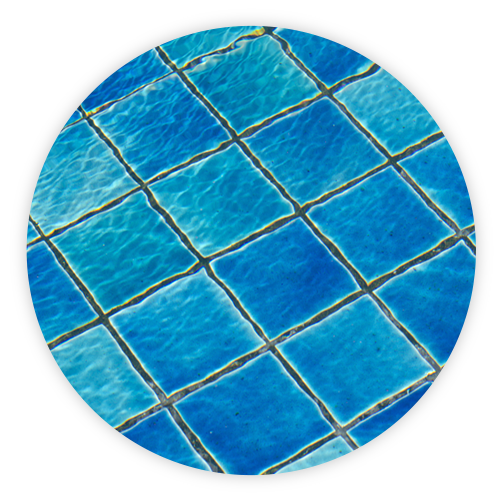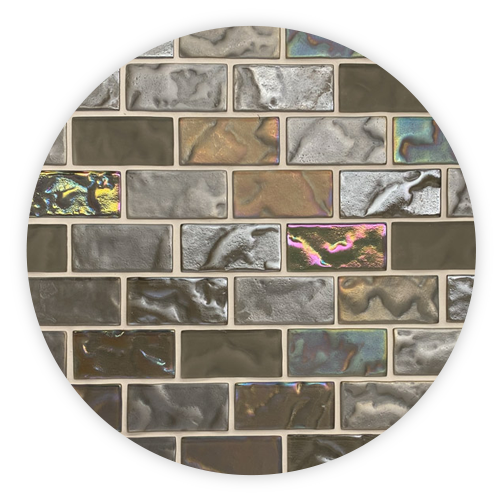 Brick Pattern Swimming Pool Mosaic Tiles
Another classic design is the brick pattern where rows of rectangular tiles alternately overlap each other by half their size. It's a popular choice for creating the illusion of extra width in your pool.

Traditional Swimming Pool Tiles
Your swimming pool should provide many years of service. Temporary fashion trends can quickly make tiling become dated. Traditional tiles such as squares or mosaic panels offer reliable designs that are always in vogue.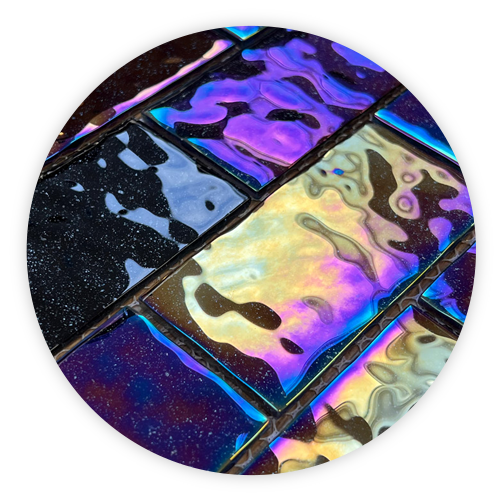 Modern Swimming Pool Tiles
Modern, contemporary tiles add a unique quality to your swimming pool. There are many unusual designs for mosaic tiles including beautiful iridescent mosaics in multiple shades of blues, blacks and greens for a pool area with real wow factor.

Indoor & Outdoor Swimming Pool Tiles
When tiling an indoor or outdoor swimming pool, you can choose colours and finishes that complement the surroundings. Interior pools can use tiles with colours and finishes that might not be so visible in bright sunshine, or to create a fantastic atmospheric finish in combination with mood lighting.
‍
Most swimming pool tiles are designed for both indoor and outdoor use, so you can be confident in making your selection wherever your pool is sited.

It's also important to choose non-slip tiling to surround the pool, whether in combination with a patio for outdoor use, or for a pool area inside a property.

What Is The Best Swimming Pool Tile Size?
A glass swimming pool mosaic tile often measures between 2 cm and 5 cm. Ceramic and porcelain are generally sized between 2.3 cm and 5 cm. The maximum size is around 10 cm. If your swimming pool has a curved design or rounded edges where the sides and floor meet, small mosaic tiles are far more successful in accommodating the shape.

Generally speaking, smaller tiles are more adaptable to shapes such as curves as well as being easier to use for detailing. A mosaic made using small glass tiles will therefore usually be the best option in pools, steam rooms, jacuzzis and other areas that incorporate seating into the design, or include curvature in the walls.

Indoor & Outdoor Swimming Pool Tiles
For the best results when tiling a swimming pool, it's usually faster and more cost-effective to hire a professional. A DIY tiling project requires electric and manual tile cutters and tiling trowels.
‍
Prepare the surfaces by washing away dust and repair any cracks. It's important to ensure the surfaces are level. Coat the pool in a suitable product to make it waterproof and leave to dry.
‍
Mark accurate guidelines across the sides and floor. Nearby, lay out your tiles in the desired pattern. Mix a high-performance mortar that's designed for being submerged in water. If you're using glass mosaic tiles you'll need a special bonding mortar.
‍
Following the guidelines, apply mortar as directed and press tiles into it. Include tile spacers as necessary. Use a spirit level as you go to ensure an accurate, level surface. Measure and cut tiles to fit. If you're new to the task, practice how to use tile cutters before you start.
‍
You'll need to tile carefully around movement joints, which are usually installed every few metres. They compensate for the continual expansion and contraction of the pool's hard surfaces. Without them, your tiles crack and work loose.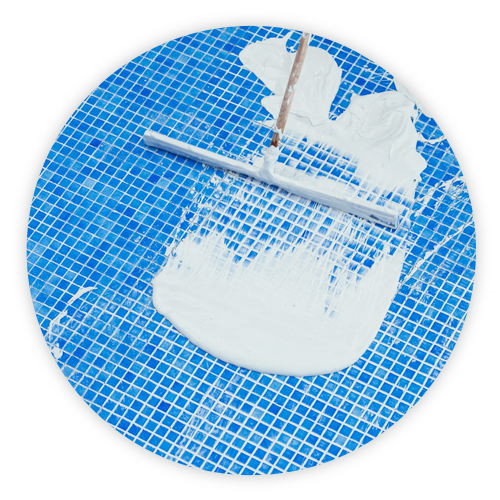 What Grout To Use For Swimming Pool Tiles?
You'll need to use a specialised grout containing epoxy resins. It's waterproof, highly durable and incredibly resistant to stains and cleaning chemicals.

How to Clean Swimming Pool Tiles
Correct maintenance is essential for a safe and healthy swimming pool that is a pleasure to use. Daily chores for outdoor pools include clearing loose leaves with a pool skimmer. Indoor pools are a little easier to maintain all year round. 
‍
Every week add chemicals such as bromine to keep the water hygienic. At least once a month, clean the waterline tiles where scum, oils and mineral deposits accumulate. 
‍
Lower the water and scrub the tiles with a stiff brush, but avoid wire bristles. Hard water areas usually have increased amounts of mineral deposits, which may need removing from the tiles and grout with a pumice stone or a suitable cleaning agent. 
‍
If you don't have the time or inclination to clean your pool, a more convenient method is to appoint a specialist pool maintenance company to carry out the work for you on a regular basis.

Find Your Perfect Swimming Pool Tiles
Choosing perfect tiles for your swimming pool often depends on its location. Outdoor pools need the most durable tiles such as glass. Mosaic tiles are popular for creating a stylish image, particularly for an indoor spa. Depending on personal taste, choose traditional or contemporary tiles, and customise them with your preferred colour choice and opulent finishes. Always choose the best tiles you can afford, and for a high-quality finish, consider professional swimming pool tiling.
‍
If you're planning a swimming pool installation or renovation, contact Mosaic Village to find out more about achieving the perfect tiled finish for your project.

Browse Swimming Pool Tiles