Black Kitchen & Bathroom
Tile Trends
Black tiles in the kitchen and bathroom might not be your first thought, but choosing black can add a chic, modern twist to your home. There are lots of ways to inject some black into the kitchen or bathroom while ensuring it suits the style of the rest of your house. Step away from basic bathroom blues, or standard white in the kitchen, and choose something more unusual.
Why should I use mosaic tiles?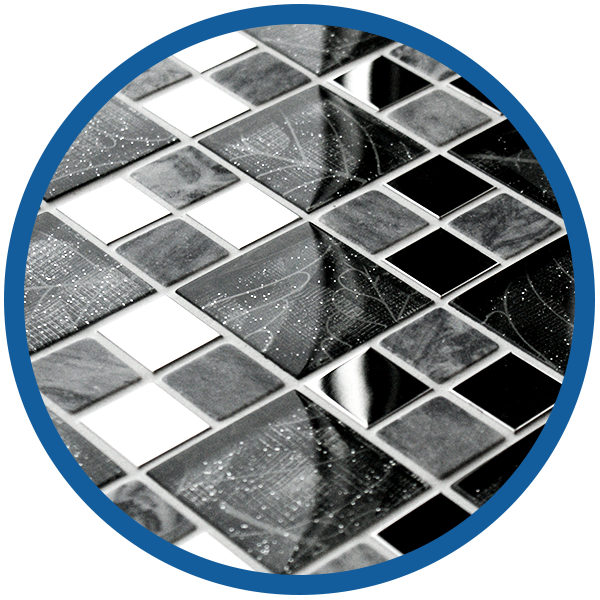 Mosaic tiles can be used to give a timeless, elegant look with a modern feel. The sheen of mosaic tiles creates a glossy effect that catches the eye and makes the room look beautiful. You can create a dramatic feature by using black tiles as a backsplash behind the oven in the kitchen. You could also use all black tiles in a similar eye-catching way in the shower, or just use black bathroom mosaic tiles to create an eye-catching trim. Alternatively, team the black tiles with a different tile in a bright colour for a young, trendy aesthetic. Black mosaic tiles are certain to add a finish that will be different to other homes.
What kinds of mosaic tiles are there?
and What styles can I create?
Glass tiles are a popular choice in the home for a reason. The beautiful, shiny tiles can be used to create all kinds of designs; as dramatic or as subtle as you like. Black glass gives a glamorous feel, and contrasts in an attractive way with the shine of metal kitchen appliances or bathroom fittings. Why not combine a classic tile shape with the exciting finish of glass?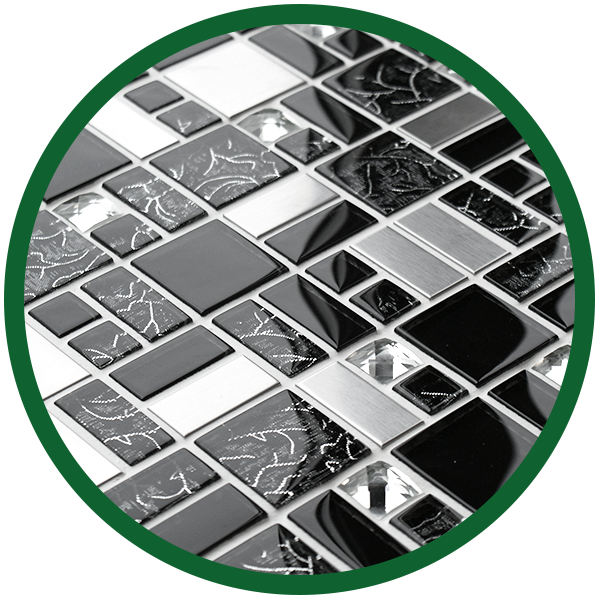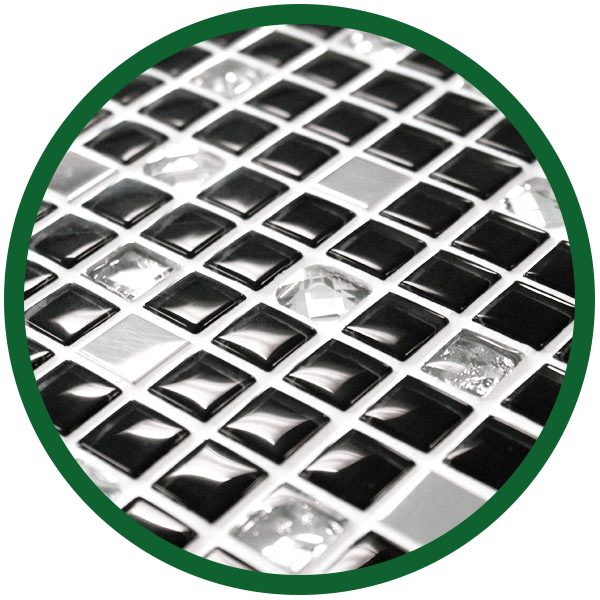 If you want something different, a mix of mosaic tiles could be the answer. After all, who said all your tiles have to match? Choose a mix of blacks and greys, or black and more traditional bathroom colours like blue or green. Use these to tile your shower to create an exciting space that will make your bathroom feel like a luxe hotel. Alternatively, create an interesting feature of a wall in your kitchen with a mix of pretty, patterned tiles that are sure to be a talking point.
‍
If your home has a sleek and modern style, then a metallic finish will give a minimalist vibe but will still be visually interesting. These on-trend tiles create a cutting-edge aesthetic in any kitchen or bathroom. Paired with a metal tile trim, you'll get a seamless finish that you will love.
Not ready to take the leap to a completely
black tiled room?
Why not add an interesting trim by using black kitchen mosaic tiles instead? Pair with bright or soft colours for a stunning contrast. A well-paired trim can help tie a room together, such as pairing dark worktops in your kitchen with a black trim to create a pleasing look. A mosaic trim also adds interest to an otherwise plain design, with a mix of textures and tones.
‍
Once you've chosen the right mosaic tile for you, whether they're glass, brick shaped or metallic, black tiles will add modern interest to the design of your home. When you choose black, you're choosing a colour that will always remain classic, but with an on-trend feel. Black never goes out of style, and neither will your kitchen or bathroom.